Deerfield School fifth-grader Shannon Dunkle learned Wednesday that half of the nation's wetlands, an area the size of California, have been destroyed.
Dunkle, joined by 90 classmates and parent volunteers, helped reclaim a small piece of that environmental heritage by harvesting plant and seed stock from the Baker Wetlands for development of the elementary school's new wetland area.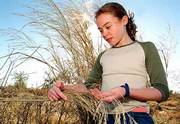 Those in attendance grabbed buckets, shovels and plastic bags before spreading out in the Baker Wetlands south of 31st Street. The bounty was planted in an area 50-by-50 feet, constructed on district property at Deerfield, 101 Lawrence Ave.
"This is cool," Dunkle said while bagging a bundle of grass seed. "It's chilly, but cool."
The elementary school's wetland area is smaller than a basketball court. But it's the size of the idea not the land mass that counts, said Deerfield science teacher Cindy Taylor.
"This project will create a memory," she said. "They'll be able to drive by Deerfield in the future and say, 'I helped start that.'"
Western Resources executive Brad Loveless, who helped coordinate several conservation projects at Deerfield, said blustery weather, muddy terrain and the possibility of encountering a snake couldn't deter the students.
"We're going to work with what Mother Nature gives us," he said. "A wetlands isn't a wetlands without plants."
Loveless is part of a team of 600 volunteers at Western Resources, a utility and home security company based in Topeka. The company deploys the "Green Team" to support habitat and wildlife preservation as well as environmental education.
Last fall, trees were planted along an eroding creek at Deerfield. Two acres of native grass and prairie wildflowers were seeded in the spring.
The wetlands project was the third phase of the Green Team's work, Loveless said.
"Their wetland is valuable, even though it's small. From a biological point of view, this is a treasure."
Copyright 2018 The Lawrence Journal-World. All rights reserved. This material may not be published, broadcast, rewritten or redistributed. We strive to uphold our values for every story published.