Homecoming at some high schools around the country gives students another occasion to don tuxedoes or nice suits and gowns on an evening that's becoming as formal and elaborate as prom in the spring.
But not at Lawrence high schools.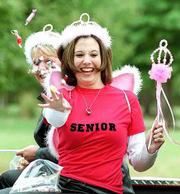 When the homecoming dances roll around, students here snub formal wear and corsages for goofy getups, themed costumes or just plain blue jeans.
Don't look for tuxedoes, fancy gowns or long white limos ferrying couples to pricey restaurants around town.
It's become a tradition at both Free State High School and Lawrence High School for homecoming to offer students a chance to let their hair down and put their creativity center stage.
LHS's homecoming was last weekend. Free State's is this weekend.
Yeah, the homecoming courts still put on formal duds for their moment in the spotlight during halftime of the Friday night football game. That's when all the candidates are introduced to the crowd, a king and queen are selected and typically take a spin around the field in a convertible.
But at the homecoming dances the following evening Free State and LHS both hold theirs on Saturday nights you'll find nary a tux or gown in sight.
Instead, groups of friends or school teams pool their talents to come up with different clothing themes or costumes to wear to the dance.
And that's the way students like it.
"We tried to do a semi-formal, and it didn't work out that well. We tried it the last two years. People didn't know what to wear or how the dance was going to be," says Riggs Skepnek, president of Free State's student council.
"Homecoming is like a regular dance. People come in different themes. It's basically friends getting together. ... It's like a Halloween costume dance."
Students say homecoming is a blast precisely because they can let their imaginations rule. They don't have to rely on a sparkly cummerbund or a classy pair of heels to set themselves apart from the crowd.
"Usually people don't start deciding on costumes until about a week before. A lot of things are last minute. We have a costume closet at my house, and we just start grabbing things," Riggs says.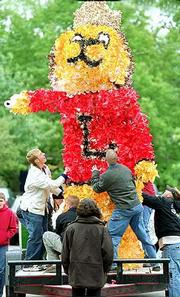 "Guys have come as cowboys, wrestlers, Romans in togas or working men in hard hats. Just funny or weird things. It makes a dance more fun."
At Free State, lots of students come up with costumes that play off the theme of fire, since the Free State mascot is the firebird.
"They'll come as fireflies, where girls wear some type of black shirt and black pants with an orange tutu and these little bug antennas," says Josh Kennett, senior class president. "... Some of the guys will come as lumberjacks or construction workers. We've seen cowboys, too, and they're interesting. Normally you don't see a lot of guys at Free State wearing tight jeans."
For Free State students, the tuxedo-and-gown route is strictly for winter formal or prom in the spring. At homecoming, "fashion" has a different meaning.
"There's either one theme, or there's 40 different themes. It's a big variation. Half the reason for the dance is just to see what people come up with," Josh says.
Same thing at LHS. Homecoming resembles the other informal dances held during the school year.
"Everyone forms their own group. At our last dance, the Lion's Leap, we were the 'Senior Ladies Down with the '80s.' We had on miniskirts and we crimped our hair," says senior Annie Willoughy.
"You make your own costumes. It's nice, because you don't have to buy dresses," adds senior Katie McManness.
Guys get into the act, too.
"Last year we came as the 'Homecoming Hippies.' We had bell-bottoms, wigs, the frilly shirts," senior Chris Kelley says. "That was probably our best dance."
Copyright 2018 The Lawrence Journal-World. All rights reserved. This material may not be published, broadcast, rewritten or redistributed. We strive to uphold our values for every story published.