When it comes to the city government's largest construction project in history, an Ohio contractor can't do it all.
Danis Environmental Industries, of Dayton, Ohio, landed a $38.95 million contract as general contractor for an expansion and renovation of the city's wastewater treatment plant. But Danis also has plans to have plenty of Lawrence-area subcontractors on the job.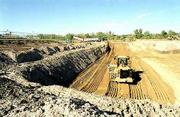 Among them is Hamm Cos. of Perry, which is handling about $1 million worth of excavation work for Domino Construction Inc., a Danis subcontractor from Laramie, Wyo.
Hamm has a crew of eight running trucks, bulldozers and excavators at the site, 1400 E. Eighth St. The project should stretch through two years, as workers dig holes, move dirt and haul in rock for backfill.
"It's not a real big job for us, but it's a good feeling to be working so close to home," said Jim Bogner, a superintendent for Hamm, which also is handling a $66 million highway construction project east of Topeka. "It's close enough that it helps the quarry end of the company and the construction end of the company. We really enjoy it, anytime something is this close."
Hamm's slice of the work is only part of an enormous construction menu lined up last month by companies in Lawrence.
According to the city's building inspections division, contractors took out permits in September for construction, renovation and other projects valued at $52.03 million the highest monthly total ever.
The city has issued permits during the first nine months of the year worth $138.06 million up from $98.11 million during the first three quarters a year ago. It also beat the $129.42 million recorded through September of 1996, which ended as the city's most lucrative building year in history.
Bill Deberard, a Domino supervisor, didn't need to see the numbers to know that Lawrence contractors were busy. He checked with five companies in the area about lending a hand on the sewage plant job, and all either quoted prices out of his range or declined to get involved.
He felt fortunate to get Hamm.
Among the largest commercial construction permits issued by city officials during September:$3.6 million to Mar Lan Construction for Wakarusa Corporate Centre, an office building at 18th Street and Wakarusa Drive.$650,000 to Excel Construction for a new McDonald's at 3241 Iowa.$550,000 to Penny Construction for a new warehouse at 1725 Haskell Ave.$232,750 to NBC Inc. for renovation work to prepare for a new American Eagle Outfitters store at 619 Mass.
"They're all just swamped," Deberard said. "I couldn't even find a water truck. You guys are all busy."
City Manager Mike Wildgen said the city received two bids for the sewage plant expansion and renovation, considered the plant's first major upgrade since 1977. Both proposals came in with higher price tags than engineers had estimated, but such is life when few contractors can handle such work, and even fewer need it.
"A lot of the work will be done by local firms, which is good news," Wildgen said.
Home construction, meanwhile, held steady during September. The city issued 26 permits for new single-family homes, unchanged from a year earlier.
That brought the total for the first nine months of the year to 261, down 8.4 percent from 285 granted during the first three quarters of 1999.
Builders have complained in recent months about a lack of lots available in price ranges that would accommodate homes selling for $100,000 to $140,000. Permits issued during September averaged $154,646 a value that does not include the cost of land.
"That's a pressure point," said Wildgen, of lots in lower price ranges.
Copyright 2017 The Lawrence Journal-World. All rights reserved. This material may not be published, broadcast, rewritten or redistributed. We strive to uphold our values for every story published.