Cycling enthusiasts from near and far rode north of Lawrence in preparation for this week's Octoginta 2000.
In its 31st year, the 80-mile race has become a highlight for the Lawrence Bicycle Club.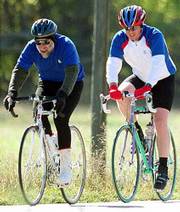 Jim Turner, the president of the ride since 1992, said the event would draw cyclists from around the Midwest.
"Usually, with the weather if it's nice, we can have 600 to 800 people come," he said.
Two days of cycling events will greet the riders who descend on Lawrence. Saturday begins at 8:30 a.m. with 10-kilometer time trials. The club will sponsor a 30-mile "Tour De County" that will take riders through Douglas County to Lone Star Lake and back into Lawrence. Saturday afternoon will feature self-guided bicycle tours of Old West Lawrence.
Sunday morning, Lawrence police will escort the riders down Massachusetts Street at 8:30 a.m. for the start of the ride. The 80-mile route, with an optional 40-mile ride, will take riders into Leavenworth County.
The ride's name was coined several years ago by a Kansas University linguistics professor. It comes from the terms "octo" for 80, and "ginta" for ride or route.
For more information about Octoginta 2000 or the Lawrence Bicycle Club, point your Internet browser to www.johnco.cc.ks.us/~rbreeden/LBC1.html
Copyright 2018 The Lawrence Journal-World. All rights reserved. This material may not be published, broadcast, rewritten or redistributed. We strive to uphold our values for every story published.