On the eve of today's Sunflower Showdown, before Lawrence was flooded with a sea of purple, about 500 Jayhawk football fans, their blue blood pumping, gathered downtown for a Big Blue pep rally.
This afternoon, Kansas University and Kansas State will fight like cats and dogs Wildcats vs. the underdogs, that is at Memorial Stadium.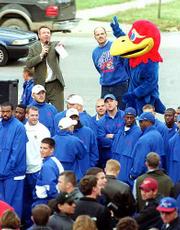 Friday evening on Eighth Street, though, the KU band roared, cheerleaders shook crimson and blue pom-pons and fans of all ages braved the fall chill to send out a hopeful victory cry for the unranked Jayhawks to shock the nation.
Hope springs eternal.
The Wildcats are ranked fourth in the nation by The Associated Press, but that doesn't rule out the up-and-coming Jayhawks in a battle on home turf, fans said.
"The team is substantially better than it has been, said Bob Garrett of Lawrence. "They have a tough schedule and a tough league. We're here, it's at home, K-State is probably a little relaxed. You never know."
Bill Argersinger of Lawrence said a victory wasn't impossible. But it was close to that.
"They have a chance, sure. It could freeze over in hell, too," Argersinger said with a chuckle.
Despite the odds against a Jayhawk victory, KU fans weren't lacking in team spirit as rally organizers raffled off Big Blue paraphernalia and ralliers ate hamburgers from the "Wildcat Roast."
They also weren't lacking in K-State jokes that are as deep a tradition as the rivalry itself this is the 97th Sunflower Showdown. Kirk Cerny of the Kansas University Alumni Association pointed out one reason why KU could win today. The 'Cats may never make it to Lawrence.
"There are four signs pointing out of Manhattan," Cerny said. "So the Wildcats have only a 25 percent chance of finding their way out of town."
The KU football team, decked out head-to-toe in blue, and coach Terry Allen were on hand to tell fans that they would need them all at today's game to drown out the Wildcat roar.
"We've got these stinking purple people coming tomorrow," Allen said. "They are a little arrogant and there's probably 15,000 of them coming."
Allen raffled off two tickets to today's game under one condition: "These have to go to Jayhawk fans."
Ralliers said they were prepared for today's K-State fan invasion. That would be especially true for the students, said Ryan Gerstner, a KU senior.
"The fans who are out there will be a little more wild than usual," Gerstner said. "The college students are going to be having a good time. It'll be crazy."
And when the Wildcats caravan back to Manhattan after today's rumble, peace in Kansas may be restored, said KU fans like Fatena Abdalla of Lawrence.
"When they are playing other teams, I'm a K-State fan," she said.
But not today.
Copyright 2018 The Lawrence Journal-World. All rights reserved. This material may not be published, broadcast, rewritten or redistributed. We strive to uphold our values for every story published.