t first, it looks like a social event. A group of women jump around in a pool, soak up the July morning sun and share idle gossip. An instructor's periodic commands seem almost a distraction.
But the talking soon begins to fade. Smiles give way to serious faces as the instructor turns up the intensity. She adds moves of more resistance. She intersperses bouts of water-treading. Eyes and minds have become more focused. The workout has begun.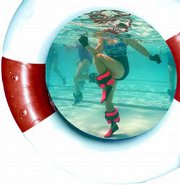 While water fitness continues to rank as one of the fastest-growing group exercises in the nation, it still battles a poor image. It was born a form of exercise therapy for sick and injured people, later expanding to include pregnant and elderly women, and many still question its fitness value.
But with better equipment, a growing cross-training focus and the recent certification of water-based personal trainers, perceptions are changing. Advocates say it's time that water-based fitness be given its due.
"There is a huge stigma surrounding water aerobics that it is just for the unfit and pregnant women,'' said Tisha Warner-Smith, who was leading the recent morning class at the Sporting Club in Boulder, Colo. "The truth is, the more fit you are, the more you get out of it.''
A water-fitness instructor for 10 years, Warner-Smith remembers when the only equipment she had available was milk jugs. She said improved equipment has led to water aerobics' progression, and many agree.
"There's definitely a trend for more equipment,'' said Peg Jordan, spokeswoman for the Aerobics and Fitness Association of America.
Purists reject this trend, saying it takes away from the grace and the mind-body experience, Jordan said: "If you are loaded down with equipment, it's more like the thing from the deep.'' But equipment can increase tenfold the conditioning benefits of the exercise, she said.
"If you are training with a certain target range and with the equipment for competition, you will be like a well-stoked furnace when you get out there,'' she said.
Equipped for conditioning
Check the facility: Water should be 82 F to 84 F; equipment should be varied.Look for professionalism: Instructors should be trained in water fitness and safety.Know your limits: Instructors should encourage participants to go at their own pace and demonstrate how to increase and decrease intensity of exercises. Don't attempt deep-water classes unless you are comfortable there.Try varied classes: Not all classes are alike. Find the right one for you based on your goals.
While shoulder-deep water re-duces body weight by 90 percent, easing the workload on the joints and ligaments, water has 12 times the resistance of air, and it allows muscles to be exercised in all directions. Add some equipment to the equation, and benefits increase.
"Some equipment will enhance buoyancy, the upper lift of water, so you can maintain a vertical position in water that is over your head,'' said Craig Stuart, a certified water-fitness instructor and president of Oregon-based Hydrofit, maker of water-fitness equipment.
Other equipment will act like weights by increasing surface area and thus water resistance.
Both types of gear have lured more elite athletes and men to water exercise, said Stuart, who began developing buoyancy equipment in his garage in the late 1980s so classes could be moved into the deep end to maximize pool space.
"I think because it takes all choreography out, basically it becomes pure conditioning,'' he said, explaining why equipment attracts men.
Stuart noted some members of his staff have worked with the Dallas Cowboys at training camp. More athletes are turning to water fitness, especially those in team sports where there's a lot of body contact, he said.
The success of Stuart's company is testament to the exercise form's popularity boom. "We've grown from a 1988 gross revenue of $4,700 to more than $5 million today, and more than half of that growth was in the past three years,'' Stuart said.
Less pain, more gain
Beat-up athletes have been using hydrotherapy for years because of water's effect on sore, tired muscles. But all exercisers can benefit. When people work out, their muscles develop thousands of microscopic tears, which lead to lactic-acid buildup and the pain and fatigue.
"It makes your muscles feel good,'' said Judy Cantalamessa, co-founder of Rocky Mountain Water Fitness and an instructor at the Colorado Athletic Club. Cantalamessa, who is nationally known for her water-fitness expertise, said the water automatically rids the body of excess fluids. That's why, for example, an injured knee feels better after a session, she said.
Doctors are apt to send joint-injured or cardiac patients (heart rates average 13 beats lower in the water) to water-based fitness classes, but Cantalamessa said the medical field needs a better understanding of the potential benefits for anyone.
"It's gotten more progressive. It's become more of a cross-training,'' she said, adding that the Aquatic Exercise Assn.'s personal-trainer certification for water-based instructors should also give her field a boost.
Those seeking personal water-based training might be exercisers wary of weight rooms, parents wanting toning exercise while the children play in the pool or baby boomers with aging joints who want a kinder, gentler workout.
While people can and do stay fit with water exercise as their sole fitness regimen, instructors urge varied workouts.
"We encourage cross-training to keep your muscles guessing what you are going to be doing,'' Cantalamessa said. Warner-Smith agreed, noting that exercise other than water aerobics is especially important for osteoporosis prevention. "It is not a weight-bearing exercise,'' she explained.
Pat Bowen, a physical therapist and strength and conditioning specialist at the Boulder Center for Sports Medicine, says that's one of the limitations of water fitness.
There are times, she says, when the dynamics of working in gravity are critical: "It works a little bit differently on your balance and proprioception (stimulation of muscles, tendons, etc.) than it does on land. If you are trying to enhance certain skills that you would need to perform a specific sport, it's hard to replicate that when you are in water for instance, if you have to do running and cutting drills for soccer or basketball.''
But exercising in near-weightlessness has its benefits, Bowen said, primarily for the joints. Because land sports, particularly running, can lead to overuse injuries, she said, water-based exercise, including swimming, is a good cross-training choice.
Copyright 2018 The Lawrence Journal-World. All rights reserved. This material may not be published, broadcast, rewritten or redistributed. We strive to uphold our values for every story published.