Topeka — A move by the federal government to close what it sees as a legal loophole which has brought an extra $45 million to Kansas doesn't worry Gov. Bill Graves.
The governor discussed the proposed change and several other issues Friday during his first Statehouse news conference in a month.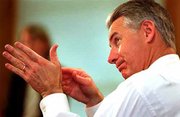 The federal government issued proposed regulations Thursday to change rules for its Medicaid program that have allowed 20 states to reap billions of extra federal dollars. Medicaid provides health care to the poor.
No funding to states would be cut in the current federal fiscal year, which began Oct. 1, and the proposed regulations would phase out the payments over five years.
Graves said he thinks the state will be able to continue receiving its payments as planned for about two years if the proposed regulations take effect.
Kansas had hoped to receive $120 million in extra federal funds during the state's 2001 fiscal year, which began July 1, and nearly $100 million a year after that.
"I have no problems with the federal government adopting rules and regs that close states' access to those funds as long as everybody's treated fairly," Graves said.
He added, "Money that we otherwise would have never seen is apparently now going to be available to us. That's good news."
On another topic, Graves said the state intends to relay its concerns to the federal Environmental Protection Agency about the agency's proposed water quality standards before the Oct. 16 deadline for public comment.
"We want to make sure the state's position is clearly articulated for the EPA," Graves said.
The standards address what the EPA sees as deficiencies in state standards on designating rivers and lakes for different uses, streams with low flows, stream beds where waste discharges create the only flow and limitations on certain pollutants.
The EPA's regulations also would extend water quality standards to lakes and ponds on private land, such as farms, and that idea has drawn strong objections from state officials and agriculture groups.
Graves said the state is keeping its legal options open and that the attorney general's office is "fully engaged."
The governor also lamented the decision of the prestigious Menninger psychiatric clinic to leave Topeka by 2002.
Wooed by a commitment to raise at least $200 million in endowment funds, the financially struggling clinic last week accepted an offer to move to Houston. Menninger plans to join an alliance with the Baylor College of Medicine and Methodist Health Care System.
The clinic's board of trustees rejected a package worth nearly $100 million designed to keep Menninger in Kansas.
Graves said state money made up only a few million dollars of that and also said local communities need to take an active role in keeping businesses and adding new ones.
"State government is not here to be the solution to everybody's problems," Graves said.
Copyright 2018 The Associated Press. All rights reserved. This material may not be published, broadcast, rewritten or redistributed. We strive to uphold our values for every story published.