If either presidential candidates Al Gore or George W. Bush wanted a new running mate, Olathe North running back Darren Sproles would be a logical candidate.
Boy, Sproles can run and run. The 5-foot-7, 170-pound senior all-stater had 18 carries for 172 yards and four touchdowns all in the first half to lead the No. 3-ranked Eagles to a 47-27 Sunflower League football victory over Lawrence High Friday night at Haskell Stadium, spoiling the Lions' homecoming before an estimated 5,000 fans.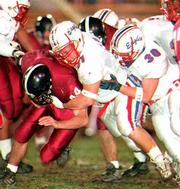 "He's very elusive and quick," said LHS coach Dirk Wedd, who has compared Sproles to former NFL great Barry Sanders. "Some people don't think he's very fast. He understands the game and he understands his blocking schemes. It's a situation where he's a little more talented than anyone we have on the field.
"They have a great weapon in Sproles, but they're also probably the best coached team in the conference. You have talent with a very talented coaching staff, and what you get is a thorough butt-kicking."
Sproles, who has orally committed to Kansas State, is already the career rushing leader in Olathe prep history with 3,820 yards. LHS had braced for the talented back.
"We prepared for a whole week for a guy with his speed," LHS senior defensive tackle Jay Wiesner said. "We knew how good he was, but we didn't get him stopped."
Said LHS linebacker Dustin Goodin of Sproles, "He's hard to bring to down and hard to get a hold of."
Sproles and the rest of O-North's No. 1 offense didn't play in the second half for the Eagles, who are 6-0 overall and 3-0 in the Sunflower League. North held a commanding 41-14 lead after two quarters.
"We were in control," Eagle coach Gene Wier said of pulling his starters. "There's a lot of schools of thought as to what you do there. I thought that was the best thing to do, and I wanted to give the other backs a chance to play."
O-North amassed 487 yards total offense 334 in the first half. Eagle senior quarterback Bryan McCall completed eight of nine passes for 144 yards with two touchdowns all in the first half.
"The good news is he hasn't had to play much in the second half," Wier said of McCall. "The bad news is we have to make sure he can do it for a full game, which we'll be starting here pretty quick."
O-North's lone score in the second half was a 53-yard run by junior Maurice Mack, the heir apparent to Sproles. The run came on the second play of the third quarter.
Wedd wasn't surprised that O-North's No. 1 offense didn't play in the second half.
| | | |
| --- | --- | --- |
| TEAM STATISTICS | ON | LHS |
| First downs | 19 | 10 |
| Rushes-yards | 46-343 | 45-255 |
| Passing yards | 144 | 81 |
| Total offense | 487 | 336 |
| ReturnYards | 53 | 7 |
| Passing | 8-9-0 | 2-8-0 |
| Punting | 1-17.0 | 5-29.2 |
| Fumbles-Lost | 3-1 | 4-2 |
| Penalties-Yards | 2-20 | 3-24 |
"Coach Wier's been a very good friend for 25 years," Wedd said. "He's doing whatever it takes to win a state championship, and I don't question anything he's done in 25 years that I've been friends with him."
The Lions, 3-3 overall and 1-3 in the league with three losses coming to Olathe schools, were led by senior quarterback Devin McAnderson. He finished with 123 rushing yards, including a 46-yard TD run in the second quarter to pull LHS within 14-7. McAnderson has led the Lions in rushing five weeks in a row.
"That quarterback is a heckuva player," Wier said. "All week long we didn't want to give him big plays. He's just that good. He's done that against everybody. He's a good athlete."
LHS finished with 255 rushing yards against O-North, the top-ranked defense in the league. The Eagles had surrendered 78 yards rushing through the first five games and just one rushing TD.
Goodin, a fullback in addition to a linebacker, finished with 29 rushing yards and two touchdowns his first scores of the season.
Lawrence's other TD came on backup quarterback Rob Scott's 62-yard run in the final minute.
Next for the Lions is Leavenworth in a Class 6A district opener. Leavenworth is 0-6. Kickoff for the district contest is 6 p.m. Friday at Leavenworth's Abeles Field.
"It's going to take a lot of leadership on the seniors' part and the coaching staff to get this team back," Wedd said. "I still believe wholeheartedly that we're a good football team."
INDIVIDUAL STATISTICS
RUSHING
ON: Darren Sproles 18-172, Maurice Mack 4-80, Jon Lamb 6-50, Allen Stuhr 5-21, Chris Armstrong 4-11, Kevin Milner 3-7, Royal Whitaker 1-6, Adam Luttrell 5-(-minus 4).
LHS: Devin McAnderson 17-123, Rob Scott 5-72, Brandon McAnderson 12-37, Dustin Goodin 8-29, Andy Flory 2-(minus 1), Joe Bell 1-(minus 5).
PASSING
| | | | | | |
| --- | --- | --- | --- | --- | --- |
| Olathe North | 21 | 20 | 6 | 0 | 47 |
| Lawrence | 7 | 7 | 0 | 13 | 27 |
ON: Bryan McCall 8-9-144 (none intercepted).
LHS: D. McAnderson 2-8-81 (none intercepted).
RECEIVING
ON: Whitaker 1-47, Mack 2-44, Jesse Gulotta 3-39, Jon Lamb 1-10, Sproles 1-4.
LHS: C.J. Kie 1-50, Scott 1-31.
PUNTING
ON: Jesse Gulotta 2-17.0.
LHS: Bell 5-29.2
HOW THEY SCORED
FIRST QUARTER
9:43 Darren Sproles 14 run. After Jon Lamb's 53-yard punt return, Sproles scored on O-North's first play from scrimmage. Jesse Gulotta kick. (O-North 7, Lawrence 0).
5:22 Sproles 26 run. Sproles had three carries for 35 yards plus a four-yard reception in the six-play, 64-yard drive. A key play was quarterback Bryan McCall's 22-yard pass to Maurice Mack. Gulotta kick. (O-North 14, Lawrence 0).
5:06 Devin McAnderson 46 run. Damon Benitez's 23-yard kickoff return plus a personal-foul penalty against Olathe North for a late hit gave LHS possession at the Eagles' 46-yard line. On the first play, McAnderson faked to Dustin Goodin, juked a defender at the 35 and dashed to the end zone. Joe Bell kick. (O-North 14, Lawrence 7).
1:48 Sproles 4 run. Sproles broke loose for a 44-yard run on first-and-10 from O-North's 38 to set up the score. The drive covered 62 yards on seven plays. Gulotta kick. (O-North 21, Lawrence 7).
SECOND QUARTER
11:53 Sproles 3 run. McCall's 47-yard pass to Royal Whitaker on first-and-10 from O-North's 38 set up the score. Gulotta kick. (O-North 28, Lawrence 7).
6:45 Gulotta 20 pass from McCall. On second and seven, McCall rolled out right and found Gulotta open in the end zone. Gulotta kick. (O-North 35, Lawrence 7).
1:25 Goodin 1 run. LHS drove 56 yards on six plays. Key plays were McAnderson's 31-yard pass to Rob Scott and McAnderson's 21-yard run. Bell kick. (O-North 35, Lawrence 14).
:13.2 Gulotta 7 pass from McCall. O-North's final drive of the half went for 48 yards on five plays in 1:12. McCall was 3-for-3 for 39 yards in the series. Gulotta kick failed. (O-North 41, Lawrence 14).
THIRD QUARTER
11:14 Mack 53 run. On second-and-six, Mack broke loose down the left sideline for the long score. Kick failed. (O-North 47, Lawrence 14).
FOURTH QUARTER
10:47 Goodin 4 run. After a goal-line stand by LHS, the Lions responded with a six-play, 99-yard drive. The big play was McAnderson's 50-yard pass to C.J. Kie, moving the ball to O-North's five. Bell kick. (O-North 47, Lawrence 21).
:52.1 Scott 62 run. On fourth-and-two, Scott faked a handoff and dashed down the right sideline. Bell kick failed. (O-North 47, Lawrence 27).
Copyright 2018 The Lawrence Journal-World. All rights reserved. This material may not be published, broadcast, rewritten or redistributed. We strive to uphold our values for every story published.