The Lawrence Municipal Airport will have $3 million for runway and other improvements after a funding request was approved by Congress Friday.
"That is the largest single appropriation in the history of Lawrence Municipal Airport," said Rick Bryant, chairman of the Lawrence Aviation Advisory Board.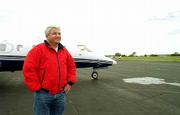 With $300,000 in matching funds through the city, the money should be enough to add more space for parking airplanes and to strengthen and lengthen the runway, Bryant said.
"These are projects that have been on our shopping list for a number of years," he said.
The money was included in a fiscal year 2001 transportation appropriations conference report passed Friday by both the U.S. Senate and House of Representatives. Once signed by President Clinton, the money is only a few federal forms away from Lawrence.
The money will allow the airport to better accommodate anticipated airplane traffic from the opening of the Kansas Speedway race track in Wyandotte County.
"It is pretty realistic to think these projects would be done just in time for the first NASCAR race," Bryant said.
The planned 500-foot addition to the 5,000-foot runway is particularly important, because it will allow heavier planes to land here, said Lloyd Hetrick, president of Hetrick Aircraft, which runs the airport for the city.
"A lot of the pilots tell me even another 300 feet puts us into another category," Hetrick said.
That will mean at least another 100 landings and take-offs a year flowing through Lawrence Municipal Airport, he said.
Such business has an impact beyond the corporations and individuals who own airplanes locally, said Bill Sepic, president of the Lawrence Chamber of Commerce.
"That will translate in purchasing of fuel rental cars food entertainment," Sepic said. "The residuals for this will have quite an impact."
Bryant said the project details remain to be decided and will be part of an Oct. 19 Aviation Advisory Board meeting.
"The war is over. There's a great big rush of relief," Bryant said. "What do we do now?"
Copyright 2018 The Lawrence Journal-World. All rights reserved. This material may not be published, broadcast, rewritten or redistributed. We strive to uphold our values for every story published.