When David Martinez saw the car jack and two-by-fours holding up his apartment ceiling he worried his upstairs neighbors might unexpectedly drop in on him.
The make-do contrivance supporting his ceiling Wednesday night was put in place after maintenance workers replacing the sliding glass door at his apartment found a crumbling, termite-devoured support beam.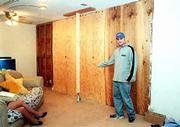 "It was hollow, and it just started crumbling," he said.
Because it is a college town, Lawrence has more renters than most cities its size. And while Martinez' problem is more dramatic than most, renters' advocates say, complaints about landlords and rental housing here are common.
"My phone has been just overwhelmed with phone calls," said Danette Seymour, who formed the Kansas Tenants Union in the fallout of her own dispute with a landlord. "Five calls a day the last six weeks."
Typically, she said, the complaints stem from leaking roofs, faulty hot water heaters or unreturned deposits. Crumbling walls are unusual.
Advice for renters with landlord or maintenance troubles is available through the tenants' union or the nonprofit Housing and Credit Counseling Inc., 2518 Ridge Court.
Seymour said in rental property disputes, it is the renter's responsibility to document problems and pursue them with the landlord. If the landlord doesn't respond, the tenant can seek compensation through small-claims court.
She suggests logging every conversation or phone call.
"The burden of proof always falls on the tenant," she said. "Always."
Martinez, 21, is saving the records from exchanges with his landlord, Peterson Companies of Merriam. He already was frustrated with the hole in the front door, the missing trim in the bathroom and the broken locks on the windows, things he expected to be fixed by Sept. 1.
But the termite damage caused him to turn to the city for help.
Chief Building Inspector Gene Shaughnessy said the apartment will be inspected at 10 a.m. today. He said he probably will require a thorough inspection to ensure the building at 2401 West 25th Street is structurally sound.
Jeff Ridenour, assistant manager for the Park 25 apartment complex, said the door header should be replaced today and that an exterminator had been called.
"As long as they are trying to do something about it then they are within the law," said Cornell Mayfield of Housing and Credit Counseling Inc.
Ridenour said the problem was unfortunate, but that Martinez overreacted by alerting the city building inspector.
"It really shouldn't have been that big a problem," Ridenour said.
Ridenour said Martinez will get a rent reduction or be allowed out of his lease without the full penalty.
"We'll have to give him a concession for this," he said.
Martinez said he doesn't know if he wants to stay in the apartment, which Thursday had plywood nailed in the glass door opening.
"I'm going to get a new wall," he said. "Everybody else is going to have termites and they don't know it."
MORE: ktu.home.icq.com
Copyright 2018 The Lawrence Journal-World. All rights reserved. This material may not be published, broadcast, rewritten or redistributed. We strive to uphold our values for every story published.