You don't have to be a minister to be a missionary.
Ask Lawrence dentist Patrick Moriarty.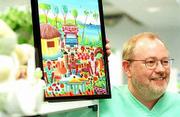 Moriarty is part of a 15-member missionary team with the Kansas East Conference of the United Methodist Church's Volunteers in Mission program. The team will spend two weeks, beginning Oct. 13, at Maua Methodist Hospital in Kenya.
Maua is an isolated, drought-stricken area about five hours northeast of Nairobi.
The team, headed by the Rev. Shirley Edgerton, pastor at Ives Chapel United Methodist Church in Baldwin, also includes a physician, nurse anesthetist, four nurses and others who will do construction- and medical-related work.
Robyn Wood, who works for Quintiles pharmaceutical company in Kansas City, Mo., is also going. Her church, Unity Church of Lawrence, has collected vitamins and donations of candles from Waxman Candles to send to Maua.
The team members pay their own way, or about $3,000, Moriarty said.
"The people who show up (for these missionary trips) are from the most varied backgrounds," he said. "Some can barely afford to go, and some don't have any particular skills or degrees. They have no outstanding gifts to give except themselves."
'The common denominator'
Moriarty's days will be filled pulling decayed teeth and treating dental infections something he has done on three earlier missionary-medical trips to Haiti and a trip to Pine Ridge Indian Reservation in South Dakota during his dental school days.
"Poverty is the common denominator. On my first trip to Haiti, I had never seen that kind of poverty before. You quickly get over any fantasy you might have of saving the world. You see how overwhelming the problems are."
dentist Patrick Moriarty on his Volunteers in Mission work
"This time, I may also do restorative dentistry," he said. "I'm also taking a Christmas kit of supplies donated by local dentists and pharmacists."
Moriarty expects conditions in Kenya to be similar to what he has seen in Haiti: extreme poverty and disease, but people who find joy in everyday life and their families.
The average income is less than $300 a year.
"Poverty is the common denominator," he said. "On my first trip to Haiti, I had never seen that kind of poverty before. You quickly get over any fantasy you might have of saving the world. You see how overwhelming the problems are."
Electricity is restricted in the Maua area. The 230-bed hospital where the medical team will be working is expected to have electricity for six hours on Mondays, Wednesdays, Fridays and alternate Sundays and about 10 hours on Tuesdays, Thursdays and Saturdays.
Because of the drought, only two rivers are flowing in Kenya and crops have had poor or no yield. About 1.9 million people are estimated to be at risk of starvation.
Those wanting to make donations to the Volunteers in Mission trip to Maua, Kenya, can send money to the Kansas East Conference of the United Methodist Church office at 4201 S.W. 15th St., Topeka, 66604. It is important to include a letter indicating which mission project you want to help. Those wishing to donate time on a mission trip, or learn more about the Maua project, can call VIM coordinator Julie Pohl, (913) 365-5816 (office) or (785) 989-3237 (home).
The situation is best illustrated by an e-mail Moriarty received from Jerri and Bill Favuto, missionaries from the Texas Methodist Conference who have been in Maua two years:
"This past week we admitted a 7-year-old boy that was hired to watch cows. The man who hired him has no cow feed so the boy was told to find feed where he could. The boy took the cows to a neighborhood's shamba and the cows ate the maize (it was only a foot high with no hope of growing more and would be used to feed cows). The boy was caught by the neighbor and severly beaten. He appears to have brain damage. My Kenyan colleague told me 'you haven't seen anything yet.'"
In Kenya, as in many African countries, HIV, hepatitis and other diseases are rampant.
To protect his own health, Moriarty has undergone a regimen of vaccinations, including tetanus, yellow fever, malaria and hepatitis.
"Thirty to 35 percent of the population has HIV. There are many orphaned children because of HIV," he said.
Edgerton said many of the children live on the streets and receive one meal a day at the hospital. The meal consists of a banana, an egg and a piece of bread and is more than many others have to eat.
"I anticipate this will be like nothing we've seen before," said Edgerton, who has been on missionary trips to Haiti, Mexico and Guatemala.
'Do what we can'
One of the hardest things for the missionaries is leaving an impoverished country knowing so much more needs to be done. Moriarty, a Catholic, relies on a saying by Mother Teresa during those times.
"She said 'God doesn't call us to succeed at these things, but to do what we can.' It's not about giving direct services or buildings, although they are gratefully accepted. It's about making contact with the people there.
" When they see an American come out to spend time in their situations and not just throw money or solutions at them as Americans we couldn't do anything better."
Copyright 2018 The Lawrence Journal-World. All rights reserved. This material may not be published, broadcast, rewritten or redistributed. We strive to uphold our values for every story published.