Here a hole. There a hole. Everywhere a hole, hole.
Piercings, once considered a sign of rebellion, are as everyday now as that Old McDonald nursery rhyme.
And the more holes, the better.
Amanda Rector, 19, an employee of Fine Line Tattoo, 1826 Mass., has piercings in her ears and tongue.
"I think they look nice," she said last week as she prepared to have another piercing, this time through the antihelix, or curved inner ridge of her ear.
Jeremy Meuffels, 22, was adding an eyebrow piercing to the ones in his ears and nipple.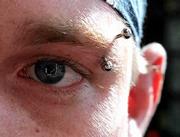 "It's a way of expressing myself," he said. "As a kid I was a rebel, but I'm law-abiding now. Now, (the piercings) are more of a fashion thing."
Teddie Fischer, owner and operator of Fine Line Tattoo, said piercings are popular among college and high school students. Those under 16 must have a signed parental consent form before any of her hypodermic needles touch any part of their bodies.
The most popular piercing is the tongue, followed closely by the eyebrow and navel. Lance Tuck, a piercer at Skin Illustrations, 740 Mass., said males seem to prefer eyebrows and tongues while females go for navels, perhaps because of the midriff-showing fashions of the past couple of years.
Fischer said her shop tallied about 50 piercings in September. Tuck said Skin Illustrations does about 300 piercings in an average month. While Fischer will not pierce anything below the belt, Tuck will except for "thick areas of tissue."
Piercings should never be done with sewing needles, thread and ice cubes, Fischer said. Jewelry should be made of such materials as surgical stainless steel, titanium or 18K gold. And caution should be taken once a piercing is done.
Healing times vary according to the type of piercings:
tongue, lip, cheek, eyebrow and earlobe, six to eight weeks
nostril and conch of the ear, two to three months
septum of the nose, four to six weeks
navel, six months to a year
nipple, four to six months for females and two to three months for males
When one trend becomes mainstream, another trend follows. The latest, however, may prove dangerous. Fischer and Tuck agree that metal implants under the skin, such as spikes in the scalp, are risky business.
"Don't do it," Tuck advised.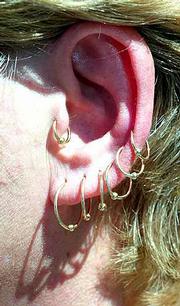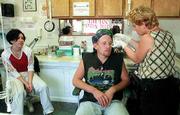 Copyright 2018 The Lawrence Journal-World. All rights reserved. This material may not be published, broadcast, rewritten or redistributed. We strive to uphold our values for every story published.