With German precision, Mariele Berthold made quick work of the head of cabbage, finely chopping it atop a huge cutting board made by her husband, Goetz.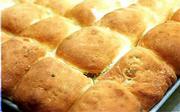 "I make all my German cookies on it," she said after clearing the board of cabbage, her slight accent betraying her nation of origin.
"I come from Bavaria. I am in this country 42 years, and you can still tell I am not from America," she said with a chuckle.
But Berthold appeared to be right at home Thursday as she helped prepare food for the St. John Oktoberfest this Saturday.
A crew of eight volunteers manned the St. John the Evangelist Catholic Church kitchen to make hundreds of bierocks browned hamburger and sausage cooked with cabbage, onion and seasonings then baked inside a slightly sweet dough. The dish, one of the few that can be prepared ahead, is new to the traditional German menu offered at the event this year. Organizers hope the smells and flavors of bratwurst, wiener schnitzel, hot German potato salad, sauerkraut, cabbage rolls oh, and beer will draw about 2,000 people to the fund-raising event.
Berthold, originally "from a small village near the Czechoslovakian border," knows a lot about Oktoberfest. Her sister in Munich is helping organize the granddaddy of all Oktoberfests.
Keeping roots
Though Americans claim German heritage more than any other ethnicity, a quick check in just about any cookbook shows most seem to have lost touch with that country's culinary roots. Not so for John Gerstner, a chef with Kansas University catering and head chef for St. John Oktoberfest. Through the course of Thursday's cooking, Gerstner and some other cooks traded German phrases such as "nicht zu viel" (not too much) when adding pepper and "mehr Salz" (more salt) after a taste test.
Gerstner, who grew up in Hays, is of Volga German descent. "The recipes are from my mother and my grandmother."
What: St. John Oktoberfest with a polka Mass, authentic German food, polka music and dancing.When: 5 p.m. to 10 p.m. Saturday.Where: St. John the Evangelist Catholic Church, 1234 Ky.Price: Admission is free. Food and beverage prices vary.
The bierocks are a specialty of the Volga Germans, ethnic Germans who lived in the Volga River region of Russia. A great number of Volga Germans immigrated to the United States in the late 1800s, and a large group settled near Hays.
On the table
More traditional German dishes include schnitzels (a breaded cutlet), bren (crisp hearty rolls) and potato salad.
And for Oktoberfest, the menu will include pretzels with Swiss cheese. "Oh, this is very famous," Berthold said.
Gl sweetened hot spiced wine also is an addition to this year's Oktoberfest in Lawrence.
As she worked, Berthold listed other dishes commonly found on a German dining table:
dark dense rye breads and dumplings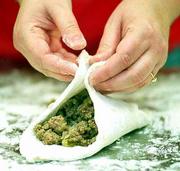 wursts sausages of various styles
red cabbage cooked with bacon, onion and apples
cakes and tortes, especially the Schwarzwlder Kirschtorte or Black Forest cake
roasted almonds and hazlenuts sweetened with honey
berliners a jelly doughnut made world famous by President Kennedy when he pronounced "Ich bin ein Berliner," in an effort to show solidarity with the residents of Berlin during the Cold War.
One of Berthold's favorites, though, is rolladen. Sliced beef, spread with mustard and rolled with bacon, sliced pickles and carrots then saut in a little oil. As the crew worked, Berthold made a pitch to Gerstner that rolladen be added to next year's menu.
But last week, the focus was on the short-term task ahead.
Beginning Thursday, the Oktoberfest committee will begin a marathon session of cooking preparing sauerkraut, boiling potatoes, hand-pounding schnitzels so Lawrence can taste the culinary bounty of their fatherland.
Copyright 2018 The Lawrence Journal-World. All rights reserved. This material may not be published, broadcast, rewritten or redistributed. We strive to uphold our values for every story published.