Perhaps buy a Harley. Maybe pay bills. Both options exist for a Lawrence physical education instructor who received a $25,000 bonus Tuesday from a national group that rewards outstanding teachers.
"What a surprise," gasped Jeff McAdoo, who teaches at Quail Run School, 1130 Inverness Drive.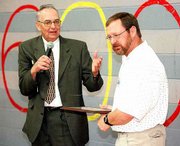 "I don't know what to say. This is awesome. Whew. That's a lot of money."
The Milken Family Foundation of Santa Monica, Calif., chose McAdoo as one of 145 teachers nationally to receive the award. He'll pick up the check in June at the foundation's national conference in Los Angeles.
McAdoo, of Ottawa, has relied on jump ropes, kick balls and tumbling mats to help shape lives of thousands of children at Quail Run the past 11 years.
"I try to teach kids, not just P.E.," he said. "I get to come here and have fun ... and feel like I can make a difference."
He was the third Lawrence educator to be honored by the foundation. Linda Herbel, who retired this year as Quail Run principal, was a recipient in 1996. Tom Christie, the district's executive director of curriculum, was honored in 1992 while principal at Cordley School.
"The recipients of this have been extraordinary teachers," said Interim Supt. Randy Weseman.
McAdoo said he wasn't certain how he would spend the money, which comes with no strings attached. A survey of past winners indicated the largest number finance a child's schooling or their own continuing education.
"Buy a Harley?" McAdoo suggested. "I may just pay off bills."
The foundation's national educator awards were first presented in 1987. Including presentations this week, a total of 1,647 awards will have been made in 42 states. Forty-one of those awards went to Kansas teachers.
Besides McAdoo, two other elementary school staff in Kansas were chosen for the awards this year: Nancy Harman, principal at Kathryn O'Loughlin McCarthy School in Hays, and Alice Bertels, fourth-grade teacher at State Street School in Topeka.
"Each one of these outstanding educators from Kansas makes a significant difference in the lives and futures of our children," said Andy Tompkins, state commissioner of education.
McAdoo also earned an expense-paid trip to Los Angeles in June to participate in the foundation's national education conference. That's where he'll actually be handed the check. In all, 145 educators will receive more than $3.6 million at the conference.
In all cases, recipients were unaware they were being considered for the award. Winners are surprised during classroom or all-school gatherings.
McAdoo thought Tuesday's assembly was called so Quail Run could be given some sort of education award.
The Kansas Department of Education, based on guidelines provided by the foundation, appointed a panel which confidentially identified candidates for evaluation and selection. Awards alternate each year between elementary and secondary teachers.
The foundation was created by Lowell and Michael Milken in 1982. Michael Milken was subsequently the target of a 98-count criminal indictment. Known as the "junk-bond king," he pleaded guilty to six charges and was sent to prison in 1990. He served two years for securities fraud.
Copyright 2018 The Lawrence Journal-World. All rights reserved. This material may not be published, broadcast, rewritten or redistributed. We strive to uphold our values for every story published.