The state's largest farmer-owned cooperative association was back in business Monday, less than a week after filing for bankruptcy protection.
But it wasn't exactly business as usual.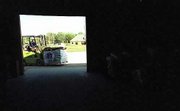 "'Mr. Farmer' can come in and sell his grain, up to the amount of cash we have available today," said Don Dumler, president and chief executive officer of Lawrence-based Farmers Cooperative Assn., 2121 Moodie Rd.
"We can't go over that. We're not writing checks for over the amount we have," he said.
That's because the co-op owes up to $20 million to about 450 creditors, although precise numbers still are being determined, said John Cruciani, an Overland Park attorney representing the co-op in its bankruptcy case.
The largest secured creditor is CoBank in Wichita, which is owed about $10 million, Cruciani said. No. 2 is UMB Bank in Topeka, which is owed about $550,000.
The co-op has about $30 million in assets, he said. Some could be sold to satisfy creditors, but details won't be clear until a reorganization plan is proposed to and reviewed by U.S. Bankruptcy Judge John Flannagan.
Farmers with grain held in open storage may sell their soybeans, wheat, corn or milo, Cruciani said. In addition to Lawrence, the co-op operates elevators in Lancaster, Atchison, Meriden and Scranton, plus Rushville, Mo., and other locations.
Dumler doesn't expect much new grain to come in.
"It's dried up our harvest," Dumler said. "Our harvest is over with, although there's 15 or 20 percent still out there to come in."
The 3,500-member co-op also is awaiting payments for grain it sold before the bankruptcy.
Farmland Industries still owes about $300,000 for a corn shipment that filled 27 rail cars, plus another $45,000 for other loads, Dumler said. Collingwood Grain owes $170,000 for a 25-car shipment of corn.
The co-op, with 140 employees, plans to meet its payroll, Dumler said, but he can't guarantee how long that will last. Each $150,000 payroll must be approved by Flannagan.
The co-op last week closed its Ampride station in DeSoto in a cost-cutting move. Two of its three employees were allowed to transfer into Lawrence, while the third is leaving for another job, Dumler said.
Copyright 2018 The Lawrence Journal-World. All rights reserved. This material may not be published, broadcast, rewritten or redistributed. We strive to uphold our values for every story published.