On otherwise empty southwest Lawrence sidewalks, more than 125 people marched for the fight against world hunger Sunday.
Youth groups and parishioners from several local churches participated in the 30th annual 5-mile CROP Walk, which began and ended at First Presbyterian Church, 2415 Clinton Parkway.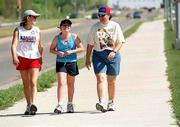 The walk was a fund-raiser for Church World Service, an international ecumenical organization. CROP is the name given to community, interfaith hunger education and fund-raising events sponsored by CWS and organized by its regional offices. Proceeds will go to local groups and international foundations that fight poverty and hunger.
Lawrence resident Kevin Goering and his son, Matthew, 8, made it the entire length of the walk, along Clinton Parkway and looping around South Junior High School. This was their third year taking part in the walk.
"We stopped once for water and once for rest," Goering said. "I think the programs it supports are the neediest people of the world. We are glad to participate."
Charlotte Waisner has walked for the past five years, organizing participants from Central United Methodist Church, 1501 Mass. She said she was pleased that some of the money raised would benefit the Lawrence Interdenominational Nutritional Kitchen.
"Twenty-five percent of the total raised doesn't seem like much to put back into the community, but it is a lot, and LINK is an important part of the city," Waisner said.
She said the group would not know exactly how much money was raised until all of the pledges had been collected by Oct. 28. Any walker who received more than $100 in pledges also received a T-shirt.
Copyright 2017 The Lawrence Journal-World. All rights reserved. This material may not be published, broadcast, rewritten or redistributed. We strive to uphold our values for every story published.