The sound of hip-hop music and skateboard decks slapping concrete filled the Centennial Skate Park for Sunday's Hip-Hop and Skateboard Festival.
Some ollied down stairs while others kickflipped over boxes or stalled on the lip of the half pipe, but organizers were pleased to see the high turnout of enthusiastic and ambitious young skaters.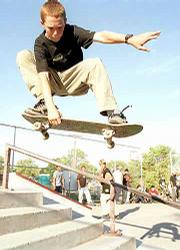 "Obviously there is a massive appeal for hip-hop and skating in Lawrence," promoter Brent Clabaugh said from outside the fenced-in park. "Judging by the crowd's reaction, this will be a big enough event. This is a beautiful, creative thing for Kansas to have."
Clabaugh worked with Lord Drake, an area hip-hop master of ceremonies and rapper, to organize the gathering as part of the Harvest of the Arts festival after the success of a similar event last year.
"We knew last year, it would be an awesome festival to keep alive," Clabaugh said. "All it took was us going out every day for the last month and a half getting sponsors. People were really interested in making this happen."
He said that an early afternoon count of the crowd totaled more than 250 people who had skated through. The event was free and open to the public. In the early evening, more experienced skaters were expected to put on a demonstration and a best-trick contest was to be take place.
With hip-hop and rock 'n' roll acts playing a makeshift stage into the night, Clabaugh expected even more people to stop by.
Jeremy Simmons, co-owner of Aces & Eights Clothes & Skates shop, said he was happy to be one of the more than a dozen sponsors of the free event.
"I think it's great. It's a good opportunity for a lot of people to get out here and see what a nice facility it is. We're glad it's here to let people know about skateboarding," Simmons said. "We're just glad to support something like this to show kids there are other opportunities besides standard athletic activities."
Koby Alaniz, 11, was one of those young skaters at the event. He was most proud of the 180 he pulled off of the highbox, a four-sided, ramped obstacle, as well as ollieing, or jumping with a skateboard, down a set of five stairs. He visits the park nearly five times a week and said the festival was a nice treat.
"It's really cool. I come here a lot, and I like these DJs," Alaniz said.
Lawrence-Douglas County Fire & Medical officials attended the skateboard festival and gave away about 40 free skating helmets to participants.
Copyright 2018 The Lawrence Journal-World. All rights reserved. This material may not be published, broadcast, rewritten or redistributed. We strive to uphold our values for every story published.