Many home-schooled youngsters get their first tastes of a traditional classroom only when they arrive at college.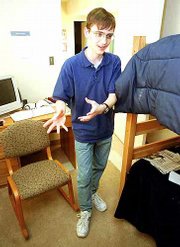 According to the U.S. Department of Education, more than 1 million students are schooled at home, and their ranks are growing about 15 percent a year.
But these students still are only a small fraction of the applicant pool at most institutions of higher education, including Kansas University and other area colleges.
Paige Illum, admissions director at Baker University in Baldwin, said she had seen only a handful of applications from home-schooled students during the past three years.
Home-schooled students must meet the same entrance requirements as other students. The main difference in their applications is that their teachers, usually mom or dad, cannot complete a recommendation form.
"We do request that the recommendation form come from a different party, like a clergyman or from someone who has worked with them in their studies," Illum said.
Michael Adams of Topeka was home-schooled by his mother since kindergarten. He had no problems being admitted to Kansas University, where he is now a freshman.
A National Merit finalist, he earned a $6,000 scholarship to attend KU. He excelled on his entrance exams, scoring 33 out of 36 on the ACT and 1560 out of 1600 on the SAT. KU requires applicants to have an ACT score of 21 or better or an SAT score of 970 or higher.
"College is kind of like the home-school environment, except for the lectures," Adams said. "Many of my classes are pretty small."
Adams, 18, is among 452 students in the university's honors program.
Jessica Oyler, 19, another KU student, attended a public school from kindergarten through second grade and a private school from grades three through six. After that she was home-schooled by her mother.
Oyler, who believes she was admitted to college based on her ACT score, is interested in the nursing field. She said learning at home had allowed her to volunteer at a hospital for three years and still have time to finish her homework.
This is the second story in a three-part series on home schooling.Coming Tuesday:The nation's first college for students who were schooled at home is not what you would call a party school. Virginia's Patrick Henry College offers courses with a Christian perspective.
Now in her third year at college, Oyler said she doesn't think she missed anything by being home-schooled.
"It teaches you a lot of self-discipline to do the work on your own," she said. "You have to keep up with the subjects, so that's helped me at college."
Although the home-schooling boom is more than a decade old, it's difficult to find university experts in Kansas who can say how well these students perform at the college level.
Sharon Lamson, an education professor at Central Missouri State University in Warrensburg, Mo., said she hadn't done serious research on the topic, but had talked to many home-schooling families. Lamson became interested in the issue because her 21-year-old godson in Florida was home-schooled.
Lamson, who has taught at CMSU for 14 years, said she couldn't tell if a student was home-schooled unless he or she told her. She said home-schoolers generally succeeded at college.
One of the hardest adjustments for home-schooled students, Lamson said, is going from one-on-one instruction to a one-size-fits-all classroom.
"At home schooling, you can focus on your areas of interest," she said. "In a college setting, you go with the professor and the established curriculum that they follow."
Oyler said the transition wasn't a problem. She already had received a taste of campus life.
"During high school, I visited some of my friends' classes, and one of my math tutors was a KU student," she said. "I met her at KU for our math sessions every week, so I was already familiar with the college atmosphere."
Although Adams had never before set foot in a public school, he said he has had little difficulty adapting to a public college. He said the adjustment was less difficult because he had good roommates.
"I've adapted a lot easier than I thought I would," he said. "I was kind of scared before I came here."
Copyright 2017 The Lawrence Journal-World. All rights reserved. This material may not be published, broadcast, rewritten or redistributed. We strive to uphold our values for every story published.