Millions of people are shopping for insurance, trading stocks or checking their 401(k) accounts via the Internet.
But most people won't bank in cyberspace, even though that option was around long before other financial services now available online. And banks, which have made major investments in technology, want to get past that.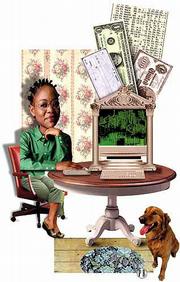 Their next effort to hook you online: electronic bill-paying. It's a hot product and the sales pitches have begun.
This fall, Washington Mutual is reconstructing its bill-paying service to make it easier to use. Bank of America, too, is overhauling its system and promises an aggressive rollout starting at the end of this year.
While Bank of America's current service requires customers to pay their bills through Quicken, the new service from CheckFree, the nation's largest electronic bill-paying company is Internet-based. CheckFree's service also is offered by SunTrust, Wachovia and other major banks.
The U.S. Postal Service, meanwhile, began aggressively promoting its own electronic bill-paying service in April.
Another online money management tool gaining popularity goes by the awkward name of account aggregation. The idea is that it'll be easier for people to manage their financial lives if investments and bank accounts and the whole picture is collected in one spot in cyberspace. CitiGroup is the first major financial institution to offer it, but independent sites such as Yodlee also have it.
Competitive market
Meanwhile, there's still a healthy competition going on via the Internet for deposits.
The competition comes from more than Internet-based banks offering big-yielding CDs or fabulous checking accounts that pay 2 percent interest, rebate fees for weekly visits to an ATM, and have a phone representative available to help 24 hours a day (such as American Express at http://home.americanexpress.com/banking).
Small banks also are entering the race with some clever ideas. TransAtlantic Bank in Miami offers free Internet access for customers who keep $1,000 in a checking account. If the balance drops too low, the cost is $9.95 a month.
When the service debuted a year ago this month with just one advertisement deposits jumped by $5 million and about 500 new customers were added.
Yet most people hang back from mixing money and the Internet. The experts and even those who use online banking services say it's fear.
Most people are not like David Donnelly, an owner of Central Alarm Control in Kendall, Fla., who has been paying his recurring bills electronically for the last year and a half.
"A lot of people are still afraid of computers," he said.
But he's so hooked he said he'd switch banks if his bank ever stopped offering electronic bill-paying. It only takes him 10 minutes a month to handle about a dozen bills.
"To me, it's a timesaver and a no-brainer," he said.
Unclear advantages
Internet-based banks accounted for $9.6 billion of the $4.5 trillion in FDIC-insured deposits last year, according to eMarketer, a New York-based online business research firm. An estimated 27.5 million people engage in online banking, a 350 percent increase in just two years, but a figure that still represents just 22 percent of Internet users, according to The Gartner Group.
Don and Tammy Beckedorf and their two children spend about an hour every day online. The Weston, Fla., family logs on to check stock prices or do a little shopping and, now that school's back in session, to check on news or assignments from St. Gregory's Catholic School in Plantation, Fla.
But they don't pay bills online.
"We're new to the area and in getting settled, with everything, I just haven't done it," Tammy Beckedorf said.
The Beckedorfs are customers of Washington Mutual, where, as of July 30, the bank had 4.8 million households as customers. Of those, 421,309 were online banking customers. But just 57,203 used electronic bill-paying, which costs $5 a month.
For all the convenience of being able to check one's accounts 24 hours a day, the advantage of going to the Internet to handle money isn't perfectly clear to consumers.
"Already in about a five-year time period, about 70 percent of adults have become Internet users," said George Barto, director of research at The Gartner Group. "But getting back to financial services, there's no great compelling reason to do them via the Internet, except convenience."
But its advantages to banks are obvious.
Low-cost transactions
Gene Kirby, director of Internet and e-business at SunTrust, said the industry studies put the price of an electronic transaction at about a penny compared to 5 cents for a telephone transaction and $1 to $2 when a customer uses a teller at a branch.
SunTrust, which adds 15,000 Internet banking users every month, said such customers tended to keep higher balances than an average customer. The bank hasn't seen any big effect on the number of checks written, however.
What the bank really wants is to use the Internet to help establish a long-term relationship with the customer.
Once someone has online accounts set up, Kirby said, "they are much less likely to leave us. It really helps them to stay with the bank."
Copyright 2018 The Lawrence Journal-World. All rights reserved. This material may not be published, broadcast, rewritten or redistributed. We strive to uphold our values for every story published.