Dallas — Larry Dykstra remembers when the extent of Pizza Hut's decline hit him like a pie in the face.
Dykstra convened a group of teen-agers in early 1999 to understand what made them tick or at least, what would make them eat more often at Pizza Hut.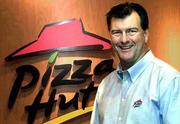 "Frankly," recalled the company's vice president for consumer insights, "they kinda said, 'You've lost your luster.' "
Many of the red-roofed restaurants were dark and unappealing. The pizza was inconsistent and uninspired, topped with flecks of diced meat. Even advertisements were dull.
Competitors were narrowing the gap on the longtime industry leader. Domino's had carved out a huge delivery business, and Papa John's also was gaining ground.
PepsiCo, which owned Pizza Hut for 20 years, had dumped the chain in 1997.
"We were seen as the albatross around PepsiCo's neck," said Michael Rawlings, a former advertising executive brought in as Pizza Hut's president that year.
Executives at Pizza Hut and its new parent, Tricon Global Restaurants Inc., set about repairing the Dallas-based chain's image. They closed some restaurants and spent $125 million renovating 120 more a down payment on a $1 billion facelift planned for the next five to seven years, Rawlings said.
Bigger toppings were introduced, and ovens were slowed so they would cook better. The company pulled publicity stunts such as paying about $1 million to put its name on a Russian rocket.
To court the biggest pizza eaters kids and teens Pizza Hut updated its logo and used irreverent advertising, including spots featuring Crash Bandicoot, the time-traveling video game hero. It also spent tens of millions of dollars on a brash ad campaign with financier Donald Trump and movie director Spike Lee to tout the company's wildly successful Big New Yorker.
In the workplace, the company used goofy awards, such as foam cheeseheads, to motivate employees and create a fun atmosphere.
Stable slice of market
The effort has helped Pizza Hut record 10 straight quarters of growing sales and earn more respect among industry analysts who follow the $23.5 billion industry.
Its share of the quick-service pizza chain market, which eroded by several percentage points in the '90s, has stabilized at 21 percent, nearly twice that of No. 2 Domino's, according to Technomic Inc., a food-industry research firm.
In the second quarter, Pizza Hut with 8,000 U.S. outlets and 4,000 abroad posted a 1 percent increase in same-store sales, while sales fell 3 percent at KFC and 6 percent at Taco Bell, the other two chains that PepsiCo spun off into Tricon.
"Pizza Hut was viewed as the most broken of the three food companies (in 1997), and it's probably been doing the best since," said Anton Brenner, an analyst with Roth Capital Partners Inc.
Wichita roots
Dan and Frank Carney opened the first Pizza Hut in Wichita in 1958, after borrowing $600 from their mother. They built the company to more than 2,000 restaurants by 1977, then sold out to PepsiCo.
Those were glory days, when pizza and Pizza Hut were nearly as closely linked as hamburgers and McDonald's. But in the 1980s and '90s, Domino's and other chains fought for a greater share of the coupon-driven business. Papa John's, a chain with a similar up-by-the-bootstraps history, became especially irritating.
By the late '90s, the Pizza Hut brand was ailing because it hadn't been able to translate its popularity among baby boomers to the boomers' children.
The company assembled 350 customers from 14 to 21 years old and quizzed them about their preferences. The results helped frame trendier advertisements and new menu items.
"Because of the vote kids have, families tend not to be very adventurous. We're very eager to please those kids and the parents of those kids," said Leah Evans, senior vice president for research and development. "There will be lots of pepperoni and cheese."
Teams of employees also are dispatched occasionally to cutting-edge gourmet pizzerias around the country in search of ideas that can be given a Pizza Hut twist.
Insider innovations
The newest product of this research is called The Insider, a pizza with a layer of cheese topped by a second piece of dough and then more cheese, sauce and toppings.
The Insider spent six months in development before being test-marketed at 37 restaurants around South Bend, Ind., and went on sale nationwide last week. Pizza Hut said it would back the new calorie-stuffed creation with $40 million of television and print advertising.
The company continues to look for new ways to sell its product. Rawlings said Pizza Hut would expand the sharing of storefronts with Taco Bell and, to a lesser degree, KFC.
"Those two-in-ones cut down on the veto vote when somebody in your car doesn't want to eat at a certain restaurant," said Mark Kalinowski, an analyst with Salomon Smith Barney.
The company also is seeking new revenue sources, including more home-delivery outlets and a delivery fee being tested in Dallas and a few other cities.
And executives say they're looking for the next hot-selling pizza concept.
"We're only as good," Rawlings said, "as our last Friday night."
Copyright 2017 The Associated Press. All rights reserved. This material may not be published, broadcast, rewritten or redistributed. We strive to uphold our values for every story published.