With the top two teams in Class 5A and the No. 3 team in Class 6A in Lawrence High's pool at the Joan Wells Invitational, Lion volleyball coach Jo Huntsinger figured chances of her squad surviving were slim.
"We were looking at the pool, and it was like, 'Oh, my God,' " Huntsinger said. "We had a lot of great teams in our pool and it was a lot of awesome competition. We were looking forward to seeing the best that Kansas has."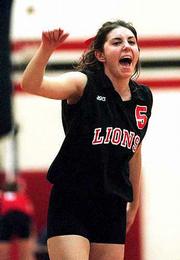 The Lions saw the best on Saturday at LHS. Lawrence opened with a 7-15, 15-7, 15-5 victory over Shawnee Mission Northwest for its lone victory. Wichita Carroll, No. 2 in 5A, beat LHS, 17-15, 15-9. Defending 6A state champion Maize, currently ranked No. 3, topped LHS, 15-7, 15-7, and defending 5A state champion Shawnee Heights, No. 1 in its class, dropped the Lions, 15-6, 15-6.
"I know it's hard to believe, but even though we went 1-3 today we're better than we were last Thursday," Huntsinger said. "We tried to make sure the kids understood that we took a step forward. No other tournament that they go to this year is as difficult as this one."
With the three losses, the Lions' record dipped to 12-9.
"I was concerned with our young kids," Huntsinger said. "I didn't want to destroy their confidence, but we really competed well. Sometimes today we played the best that we've played."
Blue Valley Northwest, No. 1 in Class 6A, went 6-0 to win the tournament for the fourth time in five years. The Huskies, now 25-1, defeated previously unbeaten Wichita Carroll 15-5, 15-7 in the final. Carroll is now 18-1.
In the third-place match, Shawnee Heights, featuring Kansas University recruit Dani McHenry, toppled Kansas City (Mo.) Notre Dame de Sion, 15-12, 15-10.
The tournament, named after the former LHS coach, is now in its 29th year. Pool pairings were based on records last season.
Copyright 2018 The Lawrence Journal-World. All rights reserved. This material may not be published, broadcast, rewritten or redistributed. We strive to uphold our values for every story published.