Somewhere along the way, planting flowers in the garden once June rolls around became an unwritten gardening taboo. Gardeners believe that if plants weren't well established by the end of May, the hot weather of summer would beat down any chance for vigorous growth and beautiful blooms.
Roy and Marcia Henry ignored that old wives' tale and created display gardens filled with colorful annuals and healthy perennials all planted after the middle of June.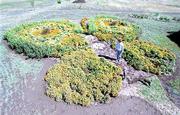 The gardens, located at Henrys' Plant Farm just west of Lawrence at 248 N 1700 Road, consist of 15 separate beds each with a unique twist. The Rainbow Garden has five rows of different colored moss roses, planted 3 feet deep, and arches across the area like a giant rainbow. The Sensory Garden contains plants that are meant to be touched and smelled, such as scented geraniums, hyssop and mint Swedish ivy. The circular Pizza Garden, with one slice missing, is filled with plants commonly found on pizzas basil, peppers, oregano and tomatoes. Other vegetables such as cabbage and malabar spinach grow in a garden aptly named Peter Rabbit's Garden.
"It's a good way to grow spinach," Marcia said of the malabar spinach. This particular variety grows as a vine and took the heat this past summer dished out."
The small Grass Garden shows off many varieties of grasses and the Formal Garden is designed in a geometric shape. The largest is the Butterfly Garden. It is formed you guessed it in the shape of a butterfly. More than 3,000 plants such as rudbeckia, Profusion Orange zinnias, annual butterfly weed and lots of marigolds bloom in colors of yellow, orange and red in this spectacular garden. The garden is best seen from an overlook tower that Roy built just for this purpose.
Named "The Family Gardens," these gardens were created through the effort of the Henry family and close associates. Brian, the Henrys' son, and Jozie Schimke, an employee of Henrys' Plant Farm, designed the garden.
"They created and planted the gardens," Marcia noted. "They were helped by our younger son, Matthew, who ran the little tractor, helped lay sod and moved rocks and dirt." Schimke's son, Homer VanSant, helped with watering and attended to many chores.
Marcia said that had they known before starting this garden project that the weather would be so dry, they might have reconsidered. Unknowingly, they plunged ahead. The stunning beauty of the gardens hides the drought conditions under which they were raised. And, no one would guess that the gardens have been in place only three months.
So what's the secret to success when planting a garden under such adverse conditions?
For one, wise planting choices, such as pentas, helped. Marcia said the pentas, which grow along the entrance to the Family Gardens, were the star this year. "They always look good, even in 100 degrees." Another great plant is lisianthus since it doesn't need much watering.
Here are strategies employed at Henrys' Plant Farm for creating and maintaining the late-season display gardens:Choose plants wiselyWater wellUse mulchDeadhead annualsConsider placement options.
Schimke has her own simple rule when it comes to starting a garden project when the heat is on.
"Plant the plant and water," she said. "(Plants) are happy to get out of those little pots."
If the flowers are root-bound, as they might be when purchased late in the season, she advised cutting through the roots that have twisted around the soil and spreading out the roots when planting. Cutting the roots encourages new root growth.
"Once they are in the ground, they're really happy," she said.
During the 100-degree heat, daily watering was necessary for plants in containers. For flowers planted in the ground, the frequency of watering depended partly on the condition of the soil. Some gardens were watered as often as every three days.
"We mulched," Schimke said. "So that helps."
One advantage of planting late in the season is that gardeners typically have more time than during that early rush of spring. Also, less deadheading is needed since the plants are cut back when planted. "People don't deadhead annuals enough," Schimke noted. Without continual deadheading, many annuals begin their seed production. "(Gardeners) think the season is over when, in fact, the flowers could still bloom into fall" if deadheaded, she added.
Schimke said that while water and deadheading are necessary, vision is also key to gardening success.
"The old goose pen was right there where the shade garden is," she said. "It just took someone to say 'I want a garden, and this is the spot it's going to be.'"
As wonderful as the gardens look, the project was an awesome undertaking, given the unrelenting heat and drought of this summer. If nothing else, these gardens are an inspiration.
---
Carol Boncella is education coordinator at Lawrence Memorial Hospital and garden writer for the Journal-World.
Copyright 2018 The Lawrence Journal-World. All rights reserved. This material may not be published, broadcast, rewritten or redistributed. We strive to uphold our values for every story published.