Miles Blomgren is a lot like any other 2-year-old you've ever met. He gets cranky when he's hungry, happy when somebody holds him, and he loves being read the same book "Where The Wild Things Are" every night.
A look into Miles' eyes, though, reveals a difference: the whites are yellow. His skin, too, has a yellow cast to it.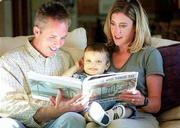 Miles' liver is failing. He's on a high priority list for a transplant. His parents, Dan and Jill Blomgren, wait for the phone call telling them they must immediately go to Chicago for the surgery.
While their days are filled with the minutiae of tending to Miles' illness giving pills, draining bile from a bag attached to his liver they also consider themselves blessed.
For one thing, they know medical technology has advanced to the point that Miles will be able to live three of Jill Blomgren's relatives died young from the same disease.
What's more, they have good health insurance. They don't have to worry about the exorbitant cost of their son's treatment.
'We're lucky'
"A lot of families wouldn't be in as good a position as we're in," said Dan Blomgren, owner of Cork and Barrel liquor stores. "We're lucky."
Nothing appeared amiss when Miles was born June 6, 1998.
"It was a normal delivery, a normal pregnancy, normal everything," Dan Blomgren said.
A few weeks before Miles' six-month checkup, though, his parents noticed he seemed jaundiced. Family friends mentioned the same thing.
"We didn't think too much of it," Dan Blomgren said. "He was acting normal."
That changed when Jill Blomgren, a physical therapist, took Miles for his checkup. The doctor checked his liver and was alarmed.
"Right then and there, she said 'You need to head to Children's Mercy (Hospital) in Kansas City,'" Dan Blomgren said.
It was the week of Thanksgiving 1998. Miles spent most of the week in the hospital, undergoing tests. Nothing panned out.
The Blomgrens then turned to a Chicago liver disease expert, who made the diagnosis: progressive familiar intrahepatic cholestasis.
"The normal liver discards bile," Dan Blomgren said. "His liver will not do that."
Awaiting the call
Instead, the bile began to build up in Miles' system, creating the jaundiced look. Doctors performed surgery when he was 10 months old, taking part of his small intestine to make a duct to drain the bile.
It was hoped the liver would regenerate itself and get healthy after the surgery. In May, though, doctors determined that hadn't happened.
"It turned out the liver was already too badly damaged," Dan Blomgren said.
Doctors put Miles on the priority list for a transplant. The Blomgrens say the call could come any day between now and, they hope, the end of the year.
Last week, the Blomgrens put the final pieces in place to be prepared for the call.
"If it happens during the day, we can go to Kansas City and catch a commercial flight," Jill Blomgren said.
At night, though, there are fewer flights. The Blomgrens have contacted a charitable organization that provides pilots for emergency night flights.
But those pilots are volunteers, Jill Blomgren said, and there's no guarantee they'll be available when needed. The Blomgrens went looking for a backup plan to guarantee they can get Miles to his new liver.
Life-changing ordeal
They found the answer last week. A family friend has a pilot's license and owns a plane the Blomgrens had forgotten about her in the hubbub of preparations.
"We've got our Plan B in place now," Jill Blomgren said.
In the meantime, both parents say, Miles' illness has changed their lives, made them more spiritual.
"I'm not taking things for granted anymore," Jill Blomgren said.
"We've learned that family life is a lot more important than work, although you need to work to live. But our priorities have changed."
And they look forward to the day when their son has a new liver, is healthy and can finally get on with the business of growing up.
"Now we're a lot closer," Dan Blomgren said. "We hope."
Copyright 2018 The Lawrence Journal-World. All rights reserved. This material may not be published, broadcast, rewritten or redistributed. We strive to uphold our values for every story published.