"ACCESS"
It was not exactly "SOS" in driftwood.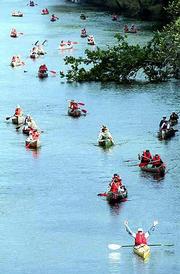 But Friends of the Kaw arranged canoes in letters on a Kansas River sandbar Saturday to send a similar message of desperation.
"We have a right to be able to use our river for recreation," said Lance Burr, one of the organizers of the sixth annual Kaw River float trip. "We have a right to be able to swim in our rivers."
In 1997, the environmental group American Rivers named the Kansas River the sixth most polluted river in America.
Health professionals caution against eating fish from the Kaw or even touching the water. The 200 or so participants Saturday carried alcohol wipes to sterilize their hands before lunch.
Friends of the Kaw has begun pushing for more access points along the Kansas River with the philosophy that people who use the river will be more apt to protect it.
There now are only a handful of official access points along its 170-mile length.
The 16-mile Friends of the Kaw float trip actually began on the Delaware River just below Lake Perry dam.
Its participants were given a view of the river enjoyed by few.
The Kansas is mostly a beautiful river.
There is the occasional rusted-out Chevy embedded in its banks, backwaters where litter bobs in the waves and a stretch above Lawrence dominated by the KPL Lawrence Energy Center and its rumbling smoke stack.
But mostly, it is beautiful.
Its banks are green and lined with trees that reach into blue sky.
"You can't tell where you are once you get on the river," said Dick Ballentine of Fairway. "It's lined with trees and high banks."
The sandbars are wide and flat and barefoot friendly.
A bald eagle swooped low over the canoe convoy, surprising those who were fighting the wind rather than riding it.
The national bird wasn't as big as 9-year-old Brady Howbert expected.
Brady was canoeing with his uncle.
"My favorite part is breaks," Brady said.
Barefoot, he took full advantage of the stops, racing across the sand, scribbling "S"s on the ground with sticks and snatching up discarded bottles like buried treasures.
Brady figured other children would like to canoe the Kansas River, too.
"I bet they'd have a lot of fun," he said.
The adults on the trip seemed to have fun as well.
But the wind kicked up at times, making progress difficult.
The group agreed that Kansas could take a tip from neighboring Missouri, where efforts have been made to protect rivers.
"Missouri has been working hard and trying to keep their rivers pristine longer," said Sara Robeson of Lawrence. "It can happen here."
Friends of the Kaw, which was formed in 1994, plans to step up its efforts to follow suit.
This summer, the group joined with the Water Keeper Alliance, a national federation of organizations that defend rivers and prosecute river polluters. The alliance's president is attorney Robert F. Kennedy Jr.
The group's famous leader might help with local fund-raising, said Mike Calwell, a Friends of the Kaw board member.
Copyright 2018 The Lawrence Journal-World. All rights reserved. This material may not be published, broadcast, rewritten or redistributed. We strive to uphold our values for every story published.