Kate Dreyer doesn't need a survey to tell her that renting an apartment in Lawrence is expensive.
The Kansas University sophomore confirms it once a month, when she cuts the $515 check for her two-bedroom apartment near Clinton Parkway and Kasold Drive.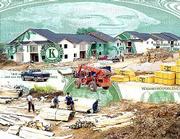 Sure, the rent includes "free" cable TV and a fireplace, but it's not exactly affordable on a $9-an-hour job at an Overland Park grocery store, where she works up to 18 hours a week.
"I have a trust fund," Dreyer said. "That's how I afford it. If I didn't have my parents helping me, I wouldn't be able to do it."
While Dreyer is getting by, hundreds of others are struggling to make ends meet in Lawrence's rental market, which shows no signs of slowing down.
The federal government considers $554 to be the monthly fair market rent for a two-bedroom apartment in Lawrence, which is about 15 percent higher than the state average.
Using those numbers, the National Low Income Housing Coalition calculated that someone would need to earn $10.65 an hour during a 40-hour work week to be able to afford such a residence, using the common standard of spending 30 percent of income for lodging.
A worker with a minimum-wage job would need to work 83 hours a week to earn enough money to meet the standard. And then there's the cost of utilities, food, insurance, child care and dozens of other expenses.
"What this is saying is people really don't recognize how much it really costs for people to be able to afford to live," said Barbara Huppee, executive director of the Lawrence Housing Authority. "If you simply look at the cost of rental housing it becomes evident that people have to make fairly high incomes to be able to live."
Huppee's organization, which provides rental assistance and housing for low-income tenants, sees the problems up close. Each of the authority's 329 tenants pay an average of $276 a month in rent.
Waiting list builds
The authority also spends $2.8 million a year on rental assistance for 600 individuals and families in Lawrence, while another 300 have their names on a waiting list that isn't getting any shorter.
Huppee fears that Lawrence's fair market rents which she already considers to be too low only will increase as the city continues its growth. She's heard about plans for several new apartment complexes, all featuring pools, workout centers, security systems and other top-of-the-line amenities sure to attract rents that will stretch the bounds of the market.
"If you're low income, it's difficult to find a place to live," she said. "Typically, apartments and houses that rent in the lowest 20 percent of market rents usually are undesirable and have structural problems and (building) code issues.
"Really, the band of units that's available is very narrow."
Doug Compton, president of First Management Inc., is among the apartment developers adding to the upper reaches of the rental market. His company has nearly 1,000 apartment units in Lawrence, many of them marketed toward KU students.
He's currently building 28 two-bedroom units near Clinton Parkway and Kasold, behind a Hy-Vee store. The places rent for $795 a month.
Compton also recently started construction on Parkway Commons, a project across Clinton Parkway from Hy-Vee that will feature 124 apartments. Its two-bedroom units will go in the "$800 range."
"Our high-end stuff is full and we've not had a problem in leasing," Compton said. "As long as (KU) enrollment continues to grow, and Lawrence, Kansas, continues to increase in population, there will continue to be a demand for these apartments."
High costs, high rents
He blames high land prices, rising construction costs and increased development fees imposed by the city of Lawrence for driving up lease rates for tenants.
"Do I think rents in Lawrence are too high? Yes, I think rents are too high," Compton said. "Until land costs come down, there's nothing we can do about it."
More than half of Lawrence's available housing units are rentals, including about 8,000 apartments in complexes with six or more units, said Tim Keller, a Lawrence appraiser who follows the rental market.
His Lawrence Apartment Market Survey concluded that demand for apartments has exceeded supply, and pushed up occupancy rates to at least 93 percent. The tight market has prevented rents from falling, Keller said.
But recent plans for several large projects, including Compton's Parkway Commons, could change things. Keller hears rumblings of the market becoming overbuilt, he said, which could lead to a "softness" in rents.
But he hasn't seen it yet.
"We don't know if that's going to happen," Keller said.
Lucy Blaney, a KU sophomore, considers herself lucky to have found a two-bedroom unit for $475 a month. She shares it with a roommate, and they both work part-time to pay the bills.
Their parents help defray costs. Otherwise, it'd be even harder.
"It's impossible to work 40 hours a week and go to school," Blaney said. "It'd be impossible to work 60 or 80 hours a week and go to school. You pretty much either have to live in filth or have some other source of money."
---
MORE: www.nlihc.org/oor2000
Copyright 2018 The Lawrence Journal-World. All rights reserved. This material may not be published, broadcast, rewritten or redistributed. We strive to uphold our values for every story published.