Israeli troops battling several gunmen and thousands of rock-throwing Palestinians opened fire Saturday, killing 12 Palestinians in the bloodiest clashes in the West Bank and Gaza Strip since 1996. More than 500 Palestinians were injured, the Palestinian health minister said.
Among those killed was a 12-year-old boy who was caught in the crossfire. Cowering behind his father, he screamed in panic as shots hit a wall just inches above their heads. Seconds later, the boy was fatally shot in the abdomen.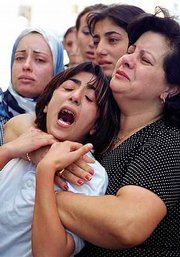 The trigger for the violence was a visit by Israel's hard-line opposition leader, Ariel Sharon, last week to a bitterly contested Jerusalem shrine sacred to Muslims and Jews. Sharon said he toured the compound to show Israel was in control there.
On Friday, six Palestinians were killed and close to 200 wounded in clashes in the walled compound.
"The battle over Jerusalem has begun," said Bassem Naim, a Palestinian activist, as thousands of protesters chanting the Muslim battle cry "Allahu Akbar," or God is Great, marched toward an Israeli army position.
Further dimming prospects for an Israeli-Palestinian peace treaty, the two sides traded angry accusations Saturday.
Israeli Prime Minister Ehud Barak spoke to Palestinian leader Yasser Arafat by phone late Saturday. "The prime minister warned Arafat that he (Barak) will not let violence be a tool in the negotiations," Barak's office said in a statement.
Israel's army chief, Lt. Gen. Shaul Mofaz, said the Palestinian Authority did nothing to stop the violence, and that Palestinian police officers in some cases even participated in the clashes.
Palestinian peace negotiator Nabil Shaath called the deadly confrontations at the Jerusalem shrine a "premeditated massacre" by Israeli security forces, aimed at proving that Israel is sovereign there.
From the town of Jenin in the northern edge of the West Bank to Jerusalem's Mount of Olives and the dusty refugee camp of Khan Yunis at the end of the Gaza Strip, similar scenes were replayed over and over Saturday.
Palestinian youths hurled rocks, some twirling slingshots for a longer aim. Others stuffed gasoline-soaked rags into bottles and threw them at Israeli soldiers who fired rubber-coated steel pellets and live rounds from behind walls and jeeps.
Streets were littered with rocks, garbage bins were overturned and plumes of black smoke from burning tires rose into the sky. In Hebron, rioters running out of rocks had them ferried to the scene in taxis.
The Palestinian Authority, providing a list of names and ages, said 12 Palestinians were killed and four were brain dead as a result of army fire. The Palestinian health minister, Riad Zanoun, said 523 Palestinians were injured. The Israeli army said 11 soldiers were injured.
In two spots an army outpost outside the Jewish settlement of Netzarim in Gaza and south of the West Bank town of Nablus several Palestinians, some masked, exchanged fire with Israeli soldiers.
"The Israelis must understand that Palestinians can also shoot and kill," said a 25-year-old gunman armed with an M-16 assault rifle who would not give his name.
In Netzarim, 12-year-old Mohammed Aldura and his father, Jamal, were caught in the cross fire. The boy screamed in panic as bullets hit a wall just inches above their heads. At one point, the father raised his head above the metal barrel that served as their cover and shook his finger, as if to admonish those firing at him. Moments later, Mohammed slumped to the ground, fatally hit, and the father, gravely wounded, lost consciousness.
Besides Mohammed, two other Palestinians died in the clash, including an ambulance driver who tried to rescue him and a Palestinian policeman. Israeli troops fired anti-tank missiles during the firefight, the army said.
The deadliest confrontation erupted in Nablus, where six Palestinians, including two policemen and a 16-year-old boy, were killed in a protracted firefight. Gunmen, their faces covered by checkered headscarves and black ski masks, shot from olive grove at Israeli soldiers crouching behind jeeps.
The 16-year-old victim was Khaled Bazyan, who had dropped out of high school three days ago and taken a job at a car wash near the site of the clashes. "When the Israeli army withdrew from Nablus, we felt safe," said Bazyan's father, Adli. "But today, we felt that the occupation is still here, on our land."
Three more Palestinians were killed in the West Bank town of Ramallah.
Palestinians say the trigger for the violence was Sharon's visit Thursday to the disputed Jerusalem hilltop known to Jews as the Temple Mount and to Muslims as Haram as-Sharif, or Noble Sanctuary.
Sharon dismissed the charges. "It wasn't my visit that incited the fire. It was the Palestinian Authority incitement that has been going on for some time," Sharon told Israel TV's Channel Two.
Israeli-Palestinian peace talks are hung up because of rival sovereignty claims to the shrine, which was once home to the biblical Jewish Temple, Judaism's holiest site, and now houses two major mosques that mark the spot where tradition says the Prophet Muhammad ascended to heaven. The walled compound is the third holiest site of Islam. Neither side wants the other to have full control. All U.S. compromise proposals have been rejected so far by the negotiators.
Secretary of State Madeleine Albright, in Iceland on Saturday during a trip to Europe, said she had spoken to both parties to try to ease tensions.
"We are very concerned about the violence. It is clearly counterproductive in the peace process," Albright said.
The violence on Friday and Saturday was the deadliest since September 1996, when 59 Palestinians, 16 Israelis and three Egyptians were killed in three days of gun battles between Palestinian police and Israeli troops.
The latest clashes came as Israelis marked the first day of their two-day New Year's holiday, a time of festive family meals and outings.
Many Israelis felt the Palestinians were responsible. "Despite the fact that there is a peace process, they (the Palestinians) want to ruin everything," said Meirav Buchbut, 21, a bookkeeper from the town of Netanya. "There won't be peace. There will only be war."
Copyright 2018 The Lawrence Journal-World. All rights reserved. This material may not be published, broadcast, rewritten or redistributed. We strive to uphold our values for every story published.