Thousands of Kansans plunked down their money Wednesday in hopes of capturing either all or part of the $130 million Powerball jackpot, the fifth-largest Powerball prize on record.
"It's very exciting to have a jackpot this big," said Jane Elliott, spokeswoman for the Kansas Lottery. "It's amazing how people start noticing it after it gets over $100 million, and then people who don't ordinarily play will start taking a chance."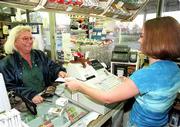 Lottery officials also are hoping the large jackpot will generate excitement after a summer drop-off in sales.
July sales fell 10 percent from the same month a year ago, mainly because the Kansas Lottery hit cash-flow problems last fiscal year and suspended advertising from April through June, according to Ed Van Petten, the lottery's executive director.
"Gradually we've increased to where we are ahead of last year," Van Petten said. "The Powerball roll has helped a lot, but even without that" sales have increased, he said.
Powerball is a multistate game. Drawings are held every Wednesday and Saturday in Des Moines, Iowa. If no ticket matches all six numbers, the jackpot rolls over and could grow to $170 million by the weekend. The record jackpot of $295.7 million was won by 13 people from Ohio in July 1998.
For $1, a player picks five numbers from 1 through 49 and then one number, the Powerball number, from a set from 1 through 42. A match of all six numbers hits the jackpot. The odds of doing that on a $1 ticket are one in nearly 81 million, according to lottery officials.
Powerball tickets were selling like hotcakes Wednesday around the area.
"We had one lady come in and get $60 worth on her own."
Melanie Pearson, a clerk at Santa Fe Market in Baldwin
"We had one lady come in and get $60 worth on her own," said Melanie Pearson, a clerk at Santa Fe Market, 309 Ames in Baldwin.
She said many of the people buying tickets were hoping for a big score. "They all say they are going to cut me in on it," Pearson said.
Jackpot winning tickets have been sold in Kansas. In March, 26 American Airlines' employees from Tulsa, Okla., who purchased their ticket in Kansas, shared a third of a $151 million jackpot.
Copyright 2018 The Lawrence Journal-World. All rights reserved. This material may not be published, broadcast, rewritten or redistributed. We strive to uphold our values for every story published.