Babette Crowder won't be around this weekend to sell the hottest lipsticks, eye shadows and foundations to fashion-conscious holiday shoppers.
The makeup guru will leave that to her assistants because she'll be busy primping ESPN's "GameDay" crew Chris Fowler, Lee Corso and Kirk Herbstreit for the college football TV show at Arrowhead Stadium in Kansas City, Mo.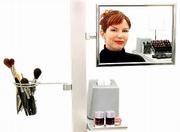 "It's fun," she said of her temporary $400-a-day gig for the Big 12 Championship game. "It makes me a better makeup artist."
After 10 years as a free-lance makeup artist, Crowder has opened a shop of her own Babette at 924 1/2 Mass. in downtown Lawrence.
Armed with a $100,000 loan from the U.S. Small Business Administration, Crowder signed a three-year lease for the space, convinced a designer to dress it up and hired three part-time employees to help cover shifts seven days a week.
Then she tapped into her network of contacts to stock more than a dozen lines of cosmetics that are the envy of the fashion world:
l Eye shadows from Vincent Longo.
l Compact powders from Visiora, the stuff "Kim Cattrall uses on 'Sex and the City,' " Crowder said.
l Double-ended lip glosses by Tarte, the company founded by friend Troy Surratt, who is assistant to Kevyn Aucoin, the "Allure" makeup columnist and $4,500-a-day artist-to-the-stars.
None of the lines in her store is available elsewhere in the area, Crowder said. Customers either have to go online or travel to Dallas or Chicago to get them.
Landing Tarte started it all.
"Troy's line helped me get pretty much anything I wanted," she said. "I only had one line turn me down, and they no longer do boutiques."
Crowder, 36, said her products ranged in price from a $4 pencil to a $69 collection, so anyone could afford to enjoy a little beauty. She's hoping to generate about $100,000 in sales during her first year.
Rita Marvine helped move Crowder closer to the goal Wednesday afternoon. The Leawood resident spent $270 on makeup and accessories from her daughters' and nieces' Christmas-gift lists.
Marvine plans to come back often for herself, and promises to bring her friends.
"Everyone from Kansas City is coming up here," she said. "It's the talk of the town. She has Vincent Longo and she's getting Cargo. You read about these in magazines, but you have to go out of town to New York or California or Chicago to get them.
"Not anymore."
Crowder came to Lawrence in 1989 to study for a master's degree in history at Kansas University. She went to work part-time selling Christian Dior at The Jones Store in Topeka, where she met Surratt.
Crowder then became a makeup artist for Lancome, and branched out into weddings. She took care of Marcus Allen for the "Marcus Allen Show" in Kansas City, and landed several advertising jobs for Wal-Mart, Staples and other national retailers.
She primped Vice President Al Gore in August, during a campaign stop in Independence, Mo. For the record, Crowder said, Gore has "really pretty skin," which needed only a antishine product.
"We just used something to cut down on the shine," said Crowder, who also groomed the prospective president's eyebrows and darkened them with a Chanel taupe brow pencil.
"I had never been asked to darken a man's brows before," she said, laughing. "He was a true Southern gentleman."
Copyright 2017 The Lawrence Journal-World. All rights reserved. This material may not be published, broadcast, rewritten or redistributed. We strive to uphold our values for every story published.