If you're the kind of person who loves to send greeting cards at the drop of a hat, you're going to love this.
Thanks to the Web, sending personal greetings for just about any occasion conceivable has never been easier, faster, cheaper or more high tech.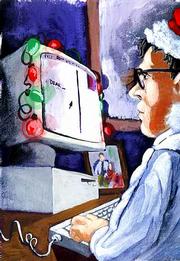 These days, millions of people are using their computer mouses to send electronic greetings often called e-cards to friends and family around the world.
It's fun. It's incredibly convenient. And best of all, unless you want to attach a gift certificate, chocolate or flowers from another Web vendor electronically, it's free.
It's also catching on.
On an average day, Excite's BlueMountain.com a leading Web site for electronic greetings sends out 1 million cards, said Londonne Corder, a 1995 Kansas University graduate who works in public relations for the company. During peak times, such as holidays, that figure multiplies to 10 million cards per day.
How to send an e-card
All you have to do to send a card is go to an e-card company's Web site there are plenty of them and follow a simple series of prompts.
You pick your own photos or other images, type in your note, and enter the recipient's e-mail address in the message field.
Then click to send.
If you want, you can add a delivery of flowers, chocolates or other gifts.
Companies typically e-mail the recipient a hyperlink that will take them directly to the card. The link stays active for a month or two.
Many companies offer animation and sound capabilities that don't require the card's receiver to download any plug-ins to use.
People like BlueMountain.com's e-cards because they're easy to send and can be highly personalized, Corder said.
The Web site offers tools customers can use to create their own cards, and add video, voice or photo attachments.
BlueMountain.com is working on offering customers the ability to attach a variety of gifts through partnerships with other vendors to their cards.
Attracting business
So, if the cards are free, how do the companies make money?
Simple. Through a combination of advertising, sponsorship opportunities and steering online traffic toward other Web sites.
BlueMountain.com is working to earn money from its site by forming partnerships with companies and through gift certificates and gift attachments.
Hallmark.com, the online division of Hallmark Cards Inc. of Kansas City, Mo., offers a huge variety of electronic greeting cards.
"In November 1996, we started our own, stand-alone Hallmark.com site," said Kathi Mishek, a spokesperson for Hallmark.com. "At the same time, we started a more sophisticated form of e-cards. What you see online today is five or 10 generations later.
"Today's e-card is much more interactive than the early ones. It uses more multimedia features, animation and sound.
"A lot of ours use music that is created from Hallmark or sound effects that our artists have made. We also have Flash Greetings, which are basically a form of multimedia software."
Hallmark.com, which offers more than 1,000 card designs, sends about one electronic greeting per second around the world.
The site also lets customers buy Hallmark's traditional ink-on-paper cards online; have them personalized with a note; then have them hand addressed and dropped in the mail.
"I'm going to be doing all my holiday cards that way this year," Mishek said.
Hallmark.com is a boon to the company's bottom line.
"First and foremost, the Web site for us is a way to connect with consumers," Mishek said. "It's a brand-building exercise.
"We have features on the site that drive people to our traditional retail stores. And e-cards are a way of attracting people to our Web site."
Electronic greeting cards also are a way to help Hallmark stay ahead of the industry curve.
"That's actually one of our main business strategies," she said.
"As a company, no matter how people want to communicate, we want to be there with options."
More change is ahead.
"E-cards as we know them will keep evolving as more people use wireless communications.
"We have experiments in Europe right now that are looking at ways to have different forms of digital greetings that will pop up on your cell phone or your pager," Mishek said.
Artist featured on cards
Kristin Dempsey of Lawrence loves e-cards, but for reasons other than those of most people who use them.
Dempsey a portrait artist specializing in pictures of companion animals has created 30 images for a line of cat- and dog-breed-specific e-cards for San Francisco-based egreetings.com.
"They have hundreds of subjects. I happen to be in a category called 'pets and animals,'" she said.
Thousands of customers are clicking on her fuzzy-faced images every month. It's a lucrative deal for Dempsey. And the way the trend of e-cards is growing, there's no end in sight.
"I just got my royalty report from egreetings. The cover letter says the company recently sent out its 100-millionth card," she said.
Copyright 2018 The Lawrence Journal-World. All rights reserved. This material may not be published, broadcast, rewritten or redistributed. We strive to uphold our values for every story published.