With Americans poised to spend more than ever this holiday season for gifts, decorations and entertainment, Robert Baker knows it'll mean more work once the New Year's hangover subsides.
That's because, for many, joyful holidays will give way to painful realities when the credit-card bills start hitting home.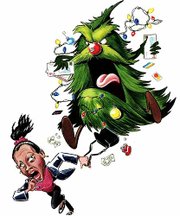 "I'm going to have a really tough job in about two months' time," said Baker, a credit counselor for Housing Credit Counseling Inc. in Lawrence. "You really don't like to see the downside of it, that's for sure. You do know there will be some people who will spend more than they can afford. And that's always disappointing."
That's why Baker and other credit counselors are working hard to remind shoppers that holiday debt isn't inevitable, even as surveys show that expenses and spending are on the rise.
The average household is expected to dump $1,684 this season on holiday-related items and activities, up 8 percent from a year ago, according to the 2000 American Express Retail Index. A WingspanBank.com survey found that Americans are expected to overshoot their spending plans by nearly $20 billion.
But such debts can be lessened or even avoided by heeding a few simple suggestions, counselors say: Make a budget, stick to it and avoid relying too heavily on credit cards.
"That's the most essential thing for avoiding a financial holiday hangover: You have to have a plan," Baker said.
And such plans shouldn't be limited to gifts alone.
Budget for the unexpected
When making out a budget, don't forget to list the incidentals such as cards, postage, food, decorations, wrapping paper and parties, according to the National Foundation for Credit Counseling in Silver Spring, Md., the umbrella organization of consumer credit counseling agencies. But be sure to build in a little flexibility, too.
Add an extra $20 to $100 for unexpected expenses, the credit counseling foundation says.
Contrary to what many consumers may think, a budget doesn't necessarily have to snatch joy from the holidays.
"With a budget item to help cover these (unexpected expenses), a family will be able to take advantage of an opportunity for an extra family activity or buy an item that is an exceptional bargain, even if it is an unplanned purchase," said Irene Leech, a financial planning specialist at Virginia Polytechnic Institute and State University.
Planning isn't always successful, or even easy. Among holiday shoppers who prepared a budget last year, half exceeded the budget by an average of 22 percent, according to a survey of more than 1,000 people by WingspanBank.com.
But overshooting the budget doesn't need to mean an end to giving, counselors say. Such difficulties can spawn creative ideas.
"Rather than eliminating people from our list, we can start to think about simple, handmade gifts that will delight them just as much as something you purchase," said Sue Lynn Sasser, family economics specialist at Texas University. "When you give a gift you made, the receiver knows it was meant especially for them."
Avoiding plastic problems
Baker, entering his fourth holiday shopping season as a credit counselor, has seen dozens of clients who relied on a much more risky option for help: Plastic.
Nearly 60 percent of those surveyed by the American Express Retail Index said they would use credit cards to buy holiday items this season. Shoppers mentioned convenience among the top reasons for turning to credit.
Bad move, Baker said.
"The more credit cards you have and the more credit cards you use, the better your chance of being in the hole after Christmas," Baker said. "If you're going to use credit, be smart about it. Use only one card, chart your balances as you go along and try to have a plan where you can pay that off in a number of months."
Journal-World wire services contributed information to this story.
Copyright 2018 The Lawrence Journal-World. All rights reserved. This material may not be published, broadcast, rewritten or redistributed. We strive to uphold our values for every story published.