For the first time in 11 years, the historic Oread neighborhood of Lawrence will play host to the city's Holiday Tour of Homes, taking place this year on Saturday and next Sunday.
The tour, sponsored by the Oread Neighborhood Assn. and Lawrence Preservation Alliance, will feature six homes and the sanctuary at Plymouth Congregational Church, 925 Vt.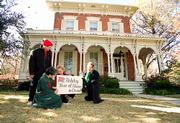 "We'd love for more people to become familiar with Oread, to become aware of its charm and consider it as a place to live," says Janet Gerstner, the association's secretary-treasurer and outgoing president. "We'd love to encourage more folks to do that. And we'd like to encourage more landlords to restore some of the homes here. A lot of them have been subdivided."
Proceeds from the tour will support preservation efforts in Oread and throughout Lawrence.
"We're excited to get the LPA helping with this. It's been a great way to show the benefits that can come out of preservation," Gerstner says.
Ticket-bearing members of the public can tour the homes and sanctuary, guided by docents.
All the homes have been specially decorated for the holidays, with support from several local decorators, artists and businesses.
Gerstner has lived in the Oread neighborhood for six years. She lives in the E.H.S. Bailey house, built in 1908.
"We love it here. There's a richness, a real depth that comes from the old homes and the fascinating people who choose to live here," she says. "Oread is a very vibrant and alive neighborhood. It's wonderfully located near downtown, the Lawrence Arts Center and KU. It's a great place to live."
The neighborhood association is made up of people who either live in Oread or own property there.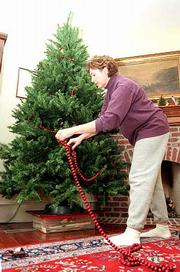 Its membership varies over the course of a year, from 50 to 150 people, Gerstner says.
The tour will be held from 10 a.m. to 4 p.m. Saturday and from 1 p.m. to 5 p.m. Sunday, Dec. 2. Light refreshments will be served at Plymouth Church.
The sites on the Holiday Tour of Homes are:
1015 Tenn.: The oldest home on the tour, this Italianate-style house is listed on the National Register of Historic Places and as part of the Oread Historic District. It was built in 1867 for Lawrence's first mayor, Col. James Blood.
945 Tenn.: This bungalow was built in 1927 on property once owned by James Junkens, one of Lawrence's earliest settlers. It has stayed in the same family for all but three of its 73 years.
947 La.: The LPA was founded in 1987 to save this house, known as the "Louisiana Purchase" house. It was built in 1903 on land once owned by abolitionist Sen. James Lane.
1101 Ohio: This Dutch colonial was built in 1908 for Kansas University Professor Edgar H.S. Bailey and his wife, Aravesta. Bailey is credited with starting the "Rock Chalk" chant, one of KU's best-known traditions.
900 Maine: This Victorian home was built in the late 1880s on what was then Lawrence's western edge. Henry Hunzicker bought the home in 1902 and established a grocery store on the property in 1913.
1005 Ky.: This renovated Folk Victorian was the home of Augusta H. Hodgson, widow of Arthur Hodgson. In 1909, she is shown as sharing her home with members of Chi Omega, one of KU's first sororities.
Plymouth Congregational Church, 925 Vt.: Home of the first organized church in Kansas, founded in 1854 by some of Lawrence's initial abolitionist settlers. The sanctuary was built in 1870. Architect John G. Haskell drew the plans for this Lombard Gothic structure.
Advance tickets to the Holiday Tour of Homes can be purchased for $7.50.
On the days of the tour, tickets will cost $10 and will available at the Visitors Center and Plymouth Congregational Church, 925 Vt.
Tickets for children 12 years old and younger cost $5.
Copyright 2017 The Lawrence Journal-World. All rights reserved. This material may not be published, broadcast, rewritten or redistributed. We strive to uphold our values for every story published.