A steakhouse institution, an American bistro and a French-style American restaurant are serving up a new line of upscale dining options in Lawrence.
When Hereford House opens for dinner Wednesday night, it will join Prairiefire: An American Bistro in the latest battle in town for customers seeking upper-end meals. BleuJacket is scheduled to join the fray Dec. 15.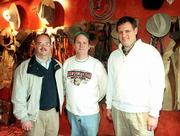 Rod Anderson, owner of the Hereford House Restaurant Group in Kansas City, Mo., figures that there's enough room in town for the three distinctive restaurants.
"It's probably the fastest-growing community in Kansas, and when you look at all of the stuff on the drawing board the residential, commercial and office it's pretty staggering," he said. "Lawrence has become more than a college town. KU is definitely part of Lawrence, whereas it used to be that KU was Lawrence."
All three restaurants are going beyond the traditional burger-and-fries bar fare long considered the recipe for success in a city that is home to Kansas and Haskell Indian Nations universities:
l Hereford House, 4931 W. Sixth St., will feature salads, rotisserie chicken and KC Strip steaks on a menu with entrees ranging from $14 to $42. The $2.1 million project which includes $200,000 for decorations alone will seat 220 in the upstairs dining room, five private rooms and bar. A downstairs banquet room has space for 150 more.
"We're betting that the market's ready for something more than what's been offered in the past, obviously," Anderson said.
l Prairiefire, 724 Mass., opened this week with 54 seats in the main dining room and room for 50 more in its bar; another 100 seats will be added upstairs next month.
The smoke-free establishment's menu spans from $7.50 pasta entrees to a $31 filet.
Executive chef Tom King also is available to devise, prepare and serve custom meals for those reserving space in more exclusive accommodations: a wine-cellar room downstairs, which overlooks a stock of 1,500 bottles; and a kitchen table, with seating for four.
Such specialty meals "whatever the guest wants" start at $100 a person, co-owner Steve Wilson said.
"We're a populist place," Wilson said. "Somebody could walk in off the street in a T-shirt and jeans and spend $15 on dinner and go home, or come in a suit and spend all evening dining. We've taken care to develop environments for everybody."
l BleuJacket, 811 N.H., will serve "French-style American food," with entrees ranging from $18 to $30, co-owner Chris Hanna said. The $1 million project will seat about 130 people in the garden level of the Kansas Seed House.
"It's going to be on the upper end," he said, before construction began earlier this year.
Copyright 2018 The Lawrence Journal-World. All rights reserved. This material may not be published, broadcast, rewritten or redistributed. We strive to uphold our values for every story published.