Mike Fuqua helps others by volunteering his time as a bell ringer for the Lawrence Salvation Army's holiday kettle drive.
He never dreamed that one day he might need that help himself.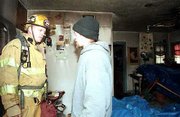 About noon Friday, Fuqua was taking a break from bell-ringing in front of the Dillons grocery store at Sixth Street and Wakarusa Drive when he learned his house, at 2111 E. 15th St., was on fire.
"I was still standing outside the store when a clerk came up and told me smoke was coming from my house," Fuqua said.
Fuqua hurried home to find firefighters from Lawrence-Douglas County Fire & Medical and Wakarusa Township putting away their equipment after a two-alarm fire.
The interior of the house sustained extensive damage from smoke and flames, according to Fuqua and Lawrence Battalion Chief Jerry Karr.
"I've got the clothes I'm wearing," Fuqua said, after examining the inside of the house with firefighters. "The rest has a lot of smoke damage."
A discarded cigarette in a kitchen trash can next to a refrigerator was blamed for the fire, Karr said later Friday afternoon. Damage to contents and structure was listed at $30,000, he said.
The house and the property are owned by The World Company, which owns Sunflower Cablevision and the Lawrence Journal-World. Fuqua described himself as a caretaker for the property, which has a tower and satellite dish for cable Channel 6 on site.
Although the property is inside Lawrence city limits, Wakarusa Township firefighters were first dispatched about 11:30 a.m. because of initial confusion about the city limits, Karr said.
Lawrence fire investigators also were called to the scene.
Fuqua's wife, Cathy, who works for Sunflower Cablevision, was in Memphis, Tenn., visiting relatives, Fuqua said. No one was in the house at the time of the fire except two cats. They were dead when firefighters found them, Fuqua said.
Fuqua said he was unsure how much, if any, of his belongings could be saved. He said he does not have renter's insurance.
The Douglas County Chapter of the American Red Cross was contacted and was providing assistance to Fuqua, Karr said.
The Lawrence Salvation Army also could provide some assistance with clothing and replacement furniture, if necessary, said Lt. Kirk Schuetz.
Copyright 2018 The Lawrence Journal-World. All rights reserved. This material may not be published, broadcast, rewritten or redistributed. We strive to uphold our values for every story published.