The annual Salvation Army holiday kettle drive kicked off Friday during a downtown ceremony complete with Christmas music, a few donations from passersby and a stiff northerly wind to set the mood.
The goal for this year's drive is $145,000, said Lt. Kirk Schuetz of the Salvation Army, 946 N.H.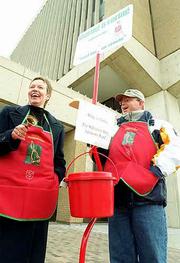 Schuetz and several others talked about where the money donated to the drive goes as they stood near a kettle in front of the Firstar Bank at Ninth and Massachusetts streets. A sign above the kettle proclaimed "Need has no Season."
The Salvation Army provides a winter shelter for the homeless and hopes eventually to obtain a new building for a year-round shelter, Schuetz said.
"It's no small undertaking, but we'll make it happen," he said.
The Salvation Army helps needy people in numerous other ways and works with other Lawrence organizations such as Toys for Tots, a program affiliated with the U.S. Marine Corps' national toy drive.
"We all work together to meet the county's needs and we're doing that," said Lt. Carolyn Schuetz, also with the Salvation Army.
"Hear the bell and be grateful," said Dr. Robert Dinsdale, a Lawrence physician and honorary chairman of this year's fund drive. "Know that every dollar you donate will help someone relax."
Dozens of bell ringers take turns working at kettle stations in front of businesses throughout Lawrence. They will work every day except Sundays through Dec. 23.
Glynn Sheridan, a member of the Salvation Army advisory board, has been a bell ringer for several years. He gets a lot of satisfaction from it, he said, even on cold winter days.
"You just dress warmly and hope the sun comes out," he said.
Copyright 2018 The Lawrence Journal-World. All rights reserved. This material may not be published, broadcast, rewritten or redistributed. We strive to uphold our values for every story published.