Despite grumbling from some voters about long lines, slow vote counts and other problems Nov. 7, election officials in Douglas and Leavenworth counties say their systems worked well despite the strain of high turnouts and unusually long ballots.
They say they see no reason to seek more equipment or more money to prepare for the next elections.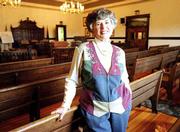 "I'm not looking into anything," said Patty Jaimes, Douglas County clerk.
There was grumbling from would-be voters who said long lines kept them from the polls and others who thought they were registered but found their names weren't on voter rolls. They cast provisional ballots.
The longest lines in Douglas County may have been at the courthouse itself, where people who weren't sure about their registration came to vote, also casting provisional ballots.
"It kept us busy," Jaimes said. "With having to help them, answer the phones, it kept us real busy."
In Douglas County, about 40,200 people voted in the general election, Jaimes said, out of 52,838 registered voters. That translates to a turnout of about 76 percent.
Polling-place confusion
Election worker James Dunn said confusion about where people could vote meant many voters had to be sent to other polling places after showing up at Plymouth Congregational Church, 925 Vt.
"At one point, I got my map and moved down the line (directing voters to their proper polling places), and the line was half what it was when I started," Dunn said. "We sent away 40 or 50."
Many of the people were simply in the wrong precinct, he said. Once the voting process was explained, voters seemed to understand, he said.
"We had only one spoiled ballot," Dunn noted.
State laws now require election officials to do all they can to enable voting. In the past, more responsibility was placed on the voter.
Adoption of the "Motor Voter" law in 1994 changed that emphasis. In the past, election officials tended to throw out ballots if portions were left blank or there were other questions about a voter's eligibility.
Leavenworth County
The get-out-the-vote effort contributed to long lines in Leavenworth County as well, said Janet Klasinski, Leavenworth deputy county clerk.
"With the Motor Voter law, we're not able to purge the election rolls like we used to," Klasinski said. "So the rolls are inflated."
About 23,000 ballots were cast in Leavenworth County, she said. There are about 35,000 registered voters. Turnout there was about 66 percent.
Because of local and state referendums and initiatives, Leavenworth County voters faced a two-sheet ballot. Counting machines there had to total 46,000 sheets. The machines are set to stop every time a ballot is blank. Several voters didn't notice the second page, causing many stoppages and leading to a late count.
"It takes a long time because we wanted to give voters every chance," Klasinski said. "I don't think we would have done any different."
In Douglas County, Jaimes was of the same mind. Though it was later learned that about 5,000 votes were counted twice, unofficial final results were available by 11:30 p.m. Election Day, Jaimes said.
"I don't think we were there all that late when the totals were in," she said
Poll workers
Jaimes' biggest concern is about finding registered voters to work at the polls. Even with extensive advertising, she said it was difficult to find people to work from 6:15 a.m. until late in the night. They are all paid $5.15 an hour for their labor.
According to the clerk's office it took 333 people to conduct the election. Most are recruited by fliers and other printed advertising. They go through a one-hour training session the day before the election.
State officials have been hesitant to allow people to work in shifts at the polls. In counties where automatic counting machines are not used, hand counting may begin as early as noon Election Day. State officials worry partial election tallies might be released early.
Many of the workers are retirees like Betty Lane.
"I worked 14 hours," Lane said. "That's a long day. When you are as old as I am, that's a long day."
Lane worked at the polling place at Mustard Seed Christian Fellowship, 700 Wakarusa Drive.
About 1,200 ballots were cast at Mustard Seed, she said.
"We might have had two or three spoiled ballots," Lane said.
One poll worker was designated to explain to voters how to mark their ballots.
"I got so tired of hearing that over and over," she said. "But, after the election was over and we saw all the problems in Florida, I'm glad they did it."
Switching to computer voting, as is done in Johnson County, might speed results but could prevent older voters from casting ballots, Jaimes said.
"I think you would disenfranchise the older voters," she said. "I think they are leery of the new technology. I prefer some sort of paper ballot. You can actually see, if anybody wants to, what the voters did."
Copyright 2018 The Lawrence Journal-World. All rights reserved. This material may not be published, broadcast, rewritten or redistributed. We strive to uphold our values for every story published.