An advocate for Lawrence special-education students Tuesday was selected the district's 2000-2001 master teacher by past winners of the award.
Joe Nyre, assistant director of special services, automatically will be nominated for the Kansas master teacher program coordinated by Emporia State University.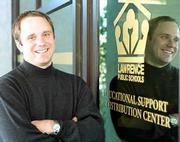 "It's kind of unique that they picked an administrator," Nyre said. "I guess this shows the increasing support that teachers feel from administrators and administrators for teachers."
A committee of former Lawrence master teachers reviewed about a dozen nominations before selecting Nyre.
Nyre, 32, has been in his current job since July. He joined the district in 1995 as a school psychologist and coordinator of behavior and therapeutic intervention.
Lois Orth-Lopes and Christine Golden, Lawrence autism resource teachers, recommended Nyre for the award.
Their nomination letter captured his commitment to the education of Lawrence children:
"Whether it is to assist in determining a functional analysis of curriculum for a child or to provide support to members of an educational system often struggling to meet the needs of a diverse classroom or to collaborate with a family and staff as an advocate for the highest quality individual educational program possible for a child, Dr. Nyre does it all."
Nyre's job is to provide support to Lawrence teachers and staff working with special-education students.
He is directly involved with families of special-needs children and with developing programs to better meet their needs. Nyre earned a bachelor's degree at University of Wisconsin, a master's at University of Missouri and a doctorate at Kansas University.
All administrators and teachers in the Lawrence district are eligible for the award, and administrators must have teaching experience.
The district doesn't award cash prizes to master teachers, but a photograph of each award winner hangs in district headquarters.
In April, Emporia State will announce selection of seven Kansas master teachers.
Copyright 2018 The Lawrence Journal-World. All rights reserved. This material may not be published, broadcast, rewritten or redistributed. We strive to uphold our values for every story published.