Cranberries get a lot of good press.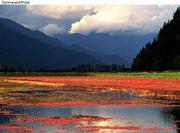 That cranberry juice can help prevent urinary tract infections is well known by now. That's no small thing, because the ailment is the second-leading cause of missed work days for women in this country, not to mention hefty doctor bills.
New research also suggests that cranberries may help fight the bacteria that cause some ulcers.
Maybe I'm in the minority here, but I actually like cranberries because they taste good. They're tart, true enough, but I like tart. A touch of cranberry can give a welcome zing to bland, sweet foods.
There are plenty of delicious ways to use cranberries, either wild or from the supermarket, before Thanksgiving, and afterward, too. Cranberries freeze well, so you can stock up when they are in the markets, pop them into the freezer and add them to recipes all year long.
Try these ideas:
Combine 1 (8-ounce) can jellied cranberry sauce and 1/4 cup reamaple syrup, cook until sauce is smooth over medium heat, whisking frequently, then use to baste ham or chicken as it cooks.
Make your favorite apple pie, adding a tablespoon or two of extra sugar, a handful of cranberries and, if desired, a handful of walnuts.
Add cranberries to apples when making homemade applesauce. Be sure to add a little extra sugar. Strain when both apples and cranberries are soft.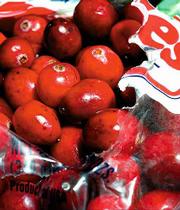 Substitute dried cranberries for raisins in cookies, muffins, chicken salad and other recipes.
For a quick grilling sauce, mix 1 (16-ounce) can jellied cranberry sauce, 1 (10-ounce) jar apricot preserves, 1/4 cup vinegar and 2 tablespoons Worcestershire sauce. Add a pinch of cayenne pepper or canned hot jalapeno peppers if desired. Bring to a boil, whisk vigorously, reduce heat and simmer for 10 minutes. Use on poultry, pork and beef.
Brighten coleslaw by tossing in a handful of dried, sweetened cranberries.
Visit Ocean Spray, the name that's synonymous with cranberries, at http://www.oceanspray.com . The site has "bushels" of recipes as well as explanations and colorful pictures of cranberry harvests.
For free recipe booklets from Ocean Spray, call (800) 662-3263. Booklets include a recipe sampler, 29 ways to use cranberry sauce, festive favorites and one on urinary tract infections.
Better yet, plan a trip to cranberry land Ocean Spray's Cranberry World Visitor's Center in Plymouth, Mass. (You can see that historic rock thing while you're there, too.) The company offers tours of its cranberry bogs as well as tastes of cranberry concoctions from its test kitchen.
Copyright 2018 The Lawrence Journal-World. All rights reserved. This material may not be published, broadcast, rewritten or redistributed. We strive to uphold our values for every story published.