Todd Craig thought he was going to just another Kansas University basketball game Monday night, even though he was ordered to wear his dress blue Air Force uniform.
Instead, because he heroically helped pull a burning man from a burning car, the Kansas University Air Force cadet received the Reserve Officer Training Corps' highest award for valor during halftime of the game.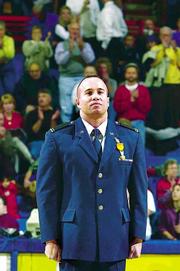 "At halftime, the colonel, captain and I walked down the bleachers. I figured something was going on, but I didn't know exactly what it was going to be," Craig said.
The 26-year-old junior received the award from KU's Air Force ROTC commander, Col. Kevin McNellis, at the break of the KU-Boise State University basketball game. The award was issued by the Air Force ROTC national headquarters at Maxwell Air Force Base, Ala.
"I was really shocked. It feels great. It's something I would have never changed," Craig said. "I'd do it over and over again if someone's life were in danger like that."
Craig received the Gold Valor Award for rescuing a man Sept. 9 from a burning car on 23rd Street. The car had collided with another vehicle in front of Coyote's, 1003 E. 23rd St.
Craig, night manager of Coyote's, gave his cell phone to another employee and told him to call 911. Craig and two other men ran to the burning vehicles and pulled the man from the back seat. The man's sleeve was on fire.
"He didn't even mention it," said Capt. Erich Schroeder, assistant professor of aerospace studies. But, "we weren't surprised to hear Craig was involved in this."
Craig served four years in the Air Force in the military police before going to college and seeking an officer's commission through ROTC.
Staff writer Tom Meagher contributed to this story.
Copyright 2018 The Lawrence Journal-World. All rights reserved. This material may not be published, broadcast, rewritten or redistributed. We strive to uphold our values for every story published.