Tien Chau, Vietnam — President Clinton on Saturday paid an emotional visit to a rice paddy where a painstaking search is under way for the remains of a U.S. Air Force pilot shot down in 1967.
Clinton, turning the focus of his historic state visit to the issue that has dominated U.S.-Vietnamese relations since the Vietnam war ended 25 years ago, was accompanied to the crash site by the two sons of fighter pilot Lawrence Evert. Evert's F-105D Thunderbird disappeared in the area during a Nov. 8, 1967, bombing raid on a nearby railroad bridge.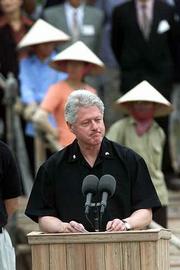 "We believe we owe them, and all Americans like them, what they came here for a chance, finally, to take their father home," said Clinton, standing at the site 17 miles northwest of Hanoi where American experts and Vietnamese workers are sifting through buckets of mud in the search for bone fragments, personal effects and airplane parts.
Before leaving Hanoi, the Vietnamese capital, late Saturday, Clinton held talks with Communist Party Secretary General Le Kha Phieu, the top-ranking Vietnamese leader.
In Ho Chi Minh City, the final stop of the historic state visit, Clinton was greeted early today by large and enthusiastic crowds that lined the streets, waving, clapping and cheering. Ho Chi Minh City was formerly the South Vietnamese capital of Saigon and the wartime headquarters of the U.S. military.
In remarks at the MIA search site, Clinton expressed a commitment to continue a $19 million annual effort to account for the 1,992 Americans still missing in Southeast Asia, including 1,498 in Vietnam.
He also praised Vietnamese cooperation in the exhaustive search.
"Once we met here as adversaries," said Clinton.
"Today, we work as partners. We are committed to keep at it until we bring every possible fallen hero home.
In the process, we are committed to building a new future for the children of Vietnam and the children of the United States, a future of friendship and cooperation."
About 300,000 Vietnamese are still listed as missing but the country's severe poverty has prevented a thorough search.
Remains repatriated
Before leaving Hanoi on Saturday evening, Clinton formally received three sets of remains believed to be those of missing American soldiers. The metal caskets were draped in American flags and loaded aboard a C-17 cargo plane bound for Honolulu, where forensic experts at the U.S. Army's Central Identification Laboratory will attempt to identify the remains.
In the coming weeks, the bone fragments recovered Saturday at the site visited by Clinton will be analyzed by U.S. and Vietnamese experts to determine whether they are human remains of an American origin. If that conclusion is reached, the remains will be forwarded to the Honolulu laboratory to determine whether they are those of Evert, U.S. military officials said.
Evert's sons Daniel, 41, and David, 39 spent about three hours at the excavation site on Friday, helping workers scoop the dense mud into buckets and sift it through wire screens.
"When we were younger, about 6 and 8, we used to talk about how we would come over to Vietnam and come get him out of jail," said David Evert. "We thought he was alive, so we thought we'd come get him and take him home and rescue him. And we kind of feel like that's what we're doing right now."
The brothers applauded Clinton's decision to become the first U.S. president to visit Vietnam since the war ended with a communist victory in 1975.
"We're absolutely grateful that President Clinton came here," said Daniel Evert. "We're not trying to make any political statements out of this. We need to heal in our own family and understand what we've gone through for the past 33 years."
Both brothers expressed their gratitude for the work of the U.S. search teams and their Vietnamese workers.
"It's very touching to see the Vietnamese people working to push the mud through, to find the little pieces," said David Evert. "We want them to know that we love them and we don't hold any animosity towards them at all. And we feel it's a time for healing for everybody. And we appreciate them helping us to find our father."
Sons' memories
David Evert choked back tears as he recalled his last memory of his father. It was July 31, 1967, and the family had gone to see Evert off at the Phoenix airport as he prepared to board a plane bound for South Vietnam.
"He walked up the stairs to get on to the plane, and he turned and he waved to us," said David Evert. "That was the last time that we saw our father."
By November 1967, Evert had flown dozens of bombing missions over North Vietnam and was about to return to Arizona for the birth of his fourth child.
"My father was packed, ready to come home," said Daniel Evert.
But on Nov. 8, 1967, on his 41st mission, Evert was the No. 4 aircraft in a flight of four F-105s assigned to strike the Phuc Yen railroad bridge northwest of Hanoi, the North Vietnamese capital. Near the target, his jet was hit by North Vietnamese anti-aircraft fire.
"I'm hit hard," Evert radioed, according to a member of a nearby U.S. Air Force flight.
No ejection or parachute chute was seen by other U.S. planes, and comrades in the second flight reported seeing an explosion that appeared to be caused by a crashing aircraft.
In the days since the digging began, the team has recovered what are believed to be human bone fragments and pieces of an F-105 aircraft, said Franklin Childress, spokesman for Detachment 2, the Hanoi-based unit tasked with pursuing U.S. MIA cases in Vietnam.
Since Clinton took office in 1992, the U.S. MIA search has returned the remains of 283 Americans to their families, said Childress.
The U.S. teams have also investigated more than 21,000 reports of alleged "live sightings" of possible American POWs in Vietnam, but no evidence has been found to suggest "that any American is being held anywhere against their will," said Bob Jones, deputy assistant secretary of defense for POW and missing personnel.
In their private visit to their father's suspected crash site, the Evert brothers buried family pictures and a bracelet, "just to honor our Dad," said David Evert.
Evert held the rank of captain at the time he was shot down. He was posthumously promoted to lieutenant colonel.
"My Dad was a great American," he said. "He loved the service, he loved to fly planes. He died in honor of his country. I'm sure that he's grateful that his sons are here to help bring him home."
Copyright 2018 The Lawrence Journal-World. All rights reserved. This material may not be published, broadcast, rewritten or redistributed. We strive to uphold our values for every story published.