Sounds of the strong, heavy beat of a Kiowa drum and the mesmerizing songs that accompany gourd dancing overwhelmed the Coffin Sports Complex Saturday at Haskell Indian Nations University.
Even the participants had a hard time describing the powerful hold gourd dancing has on them.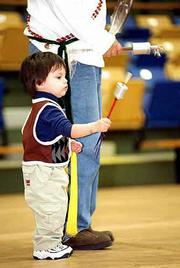 "It's just a very good feeling that you get," said Gaylon Holder, 29, one of the gourd dancers. "It has a strong power over me. It lets me feel strongly about our culture and heritage."
Gourd dancing and singing was just one feature of the two-day Kiowa Cultural Days celebration Friday and Saturday. Sponsored by the Haskell Kiowa Cultural Organization, it was designed to keep the Oklahoma tribe's heritage alive for its students attending Haskell and allow others to see a sample of it, organizers said.
Many of the dancers and singers were from the Kiowa Tribe headquarters area around Carnegie, Okla.
Only a few people showed up for the start of the gourd dancing, which was to continue into the night when special recognition was to be paid to tribal elders.
Gourd dancing features a dozen men sitting in a circle around a drum singing, while the head dancers and singers perform behind them.
"It has a strong power over me."
Gaylon Holder, gourd dancer
Dancers and singers wear mescal beans around their shoulders bandoleer style, with red and blue blankets draped around their necks. They carry feathers in one hand and in most instances a metallic canister in the other, representing a gourd.
"There's a uniqueness here because you have individuals who are chosen as lead singers," said Martha Koomsa Perez, a representative with the Kiowa headquarters. "They need to know the songs of families and individuals."
Fifteen ancient songs and six songs of more recent vintage go with the dancing, Koomsa Perez said.
Legend traces gourd dancing to an ancient Kiowa warrior left behind on a battlefield because of his wounds, Koomsa Perez said. The warrior hears music coming from a mysterious red wolf, who promises healing if he will teach the songs to others.
Attending the dance event was Miss Haskell Institute 1947, Juanita Daugomah Ahtone, a Kiowa from Carnegie. Now 72, Daugomah Ahtone said she visits Haskell and Lawrence frequently and has had children and grandchildren attend the university.
Copyright 2018 The Lawrence Journal-World. All rights reserved. This material may not be published, broadcast, rewritten or redistributed. We strive to uphold our values for every story published.