Dien Bien Phu, Vietnam — I'm not sure what I expected to see here. Its name was the draw.
Dien Bien Phu was the backdrop for the finale of the French-Indochina War, the scene of a 57-day battle in 1954 that cost the Vietnamese 25,000 soldiers. And 13,000 French troops were killed or captured during the siege.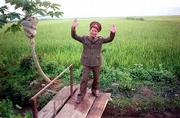 We heard it mentioned often during the Vietnam War, usually as a serious reminder of the determination of the North Vietnamese soldiers and citizens. I'd heard about it and read that 40,000 Vietnamese troops surrounded French forces trying to control the Muong Thanh Valley, their enemy's supply route to Laos.
Now, here I was walking along a bumpy path that cut unevenly through acres and acres of rice 4 miles north of the city in that same valley that looked like anything but a battlefield.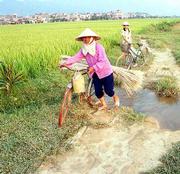 The sun was setting and the rice fields were as green as green gets. An occasional Vietnamese on foot or bicycle would pass, headed away from town. I guessed that seeing an American ambling down the trail was not an everyday sight, but all flashed a sincere smile. They looked as eager to get home as I was to get to my hotel. Sunsets don't hang around very long in Asia. Now you see them, now it's dark.
Dusk was peaceful, with no sounds of cars or motorbikes. As I approached the main road leading to town, an old man dressed in an undershirt, shorts and sandals came out of his house and walked toward me. I'd seen him from a distance earlier in the afternoon walking proudly behind two goats on rope leashes.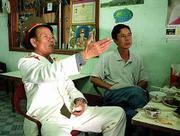 I said hello and he said something in Vietnamese and then, pulling on my arm, began pointing and walking toward his house next to the road. I asked (in English) what he wanted, he answered (in Vietnamese) and kept tugging on my arm.
He looked friendly enough, so I followed him into his house. He still had a grip on my arm pulling me through one room and into the back room. He pointed to one of the many pictures on the wall and then tapped his chest. It was an old picture of the man in a Communist Vietnamese Army uniform.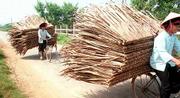 We were still mixing English and Vietnamese but with gestures we were communicating. I took the picture off the wall and took him by the arm and it was my turn to lead him. Outside, I handed him the photograph, he held it and I took his picture. He loved it.
About then, our guide and interpreter, Phuong The Nguyen, pulled up in a car. After chatting with the old soldier for a few minutes, he filled me in.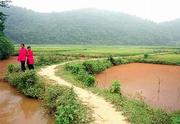 "His name is Dang Xuan Kieu, and in 1954 when he was 27 he joined the Viet Minh to fight against the French."
Mr. Kieu was beaming.
"He retired in 1988 as a captain in the Vietnamese Army."
Mr. Kieu held out his arm, exposing a long scar that ran from his palm to his elbow.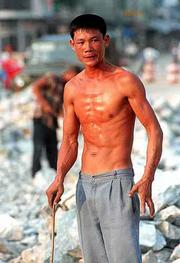 Phuong told us Mr. Kieu was wounded in battle at Dien Bien Phu when a bullet went in his hand, ran up his arm and came out his elbow.
Mr. Kieu invited us to lunch the next day. I asked if he still had his uniform. He did. I told him we'd be back tomorrow and that I'd like to take his picture in his uniform.
We smiled our goodbyes.
Lunch date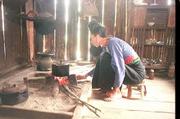 Late the next morning when we neared the home of Mr. Kieu we could see him outside his home wearing his army uniform jacket topped with a shiny-billed cap. Before we went inside I led him across the road and took his picture by a rice field.
I'd never been this close to anyone wearing a Communist Vietnamese Army uniform, and now we were sharing lunch. But I figured he hadn't eaten with too many Americans from Kansas and New York.
Our host kept pushing dishes of food toward me. I took something from each. One of the tastiest dishes looked like red gelatin with crunchy nut-like things on top, and when I'd mix it with some of the other mysterious items on my plate it was an improvement.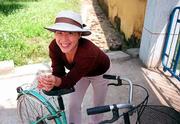 Mr. Kieu kept shoving and I kept eating.
Finally Phuong told me I might want to lay off the red "gelatin" because it was very rich and might make me sick.
I stopped my spoon inches from my mouth. I'd eaten all but a spoonful.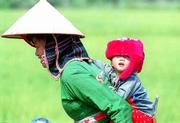 I asked him what it was.
"Porcupine blood" was the answer.
After lunch, a mysterious dessert (I was afraid to ask and Phuong didn't say anything) and a final toast, we shook hands goodbye. In a surprise gesture, Mr. Kieu planted a big kiss on my cheek. I followed his lead and kissed him on the cheek.
The countryside
Traveling from Hanoi to Dien Bien Phu by car can take two kidney-shaking days, so we opted to fly. There are four Vietnam Airline flights per week from Hanoi that get you there in an hour.
The former French garrison is small, with barely 10,000 residents. It's located in a remote corner of Vietnam about 10 miles from the Laos border. China is its neighbor to the north. The area is surrounded by large, tree-covered hills that are home to Montagnard people, the country's ethnic minorities.
Early one morning we headed out to get a look at the countryside. As we wound our way up and down steep hills reminiscent of those in West Virginia, the dirt roads were busy with bicycle traffic. But these were more like cargo bikes carrying everything from baskets of wood and tree limbs to enormous stacks of palm leaves woven together
Phuong told us the cyclists were Black Tai, members of an ethnic group originating in southern China.
As we were nearing the top of a hill, we saw a young man helping a female cyclist adjust her load of heavy wood. We stopped, I took a couple of pictures and watched the proceedings. When the wood was secured I asked (with gestures) if I could hold the bike.
They both smiled (nearly everybody in Vietnam smiles a lot) and stepping back from the bike let me grab hold. It was balanced beautifully so holding it upright was no problem.
Peddling, stopping, turning and staying on the road would be the problem. The bicycle itself didn't weigh as much as its load of wood. This was no "trail-blaster" mountain bike, but simply slightly reinforced aluminum tubing with two thin-rimmed wheels that bring to mind a disposable bicycle.
After feeling the heft of the load, I knew if I tried to maneuver the bike, even downhill, it would all be over, finished. I handed it back to the slightly built young woman who smiled, hopped on the bike, headed down the hill and quickly disappeared around a curve in the road.
Visiting the Ons
Traveling on, we turned down a long, rough road that was obviously for bicycles and foot traffic. At the end was a cluster of houses on stilts, less than 6 feet off the ground.
I say less than 6 feet with authority because after bowing slightly, when I shook hands with members of the On family, I banged my head on the bottom of the home's floor when I stood up.
Journal-World senior editor Bill Snead spent nearly two years in Vietnam during 1967, 1968 and 1969 while running United Press International's photo bureau. In September and October, he returned to revisit the southern half of the country and tour the north for the first time. In Hanoi, he hooked up with former UPI colleague and Saigon bureau manager Jack Walsh. From there, the pair traveled both north and south, ending their 18-day journey in the flooded Mekong Delta south of Ho Chi Minh City, formerly Saigon. Walsh, 65, and Snead, 63, planned for the trip months ago. A few days before their departures, each was told by their doctors they had physical problems that required surgery. Both elected to continue with their plans, and old age and health became a running three-week joke. The story on Dien Bien Phu is Snead's first about his journey to Asia. Other stories will be forthcoming after his recovery from surgery.
The Ons invited us in to their living quarters at the top of ladderlike steps. An old black-and-white console television with an 8-inch screen was in one corner, bedding lined the floor under a low ceiling and there was very little furniture. There were two open floor hearths, one inside and one at the end of the living quarters in the open. The women gave us a tour of the house while Phuong and Mr. On chatted.
I asked Phuong where the electricity came from that supplied power to a couple of single light bulbs and the television. He said a small generator driven by water running through a rice paddy did the job.
A group of youngsters appeared at the top of the steps, and Phuong suggested that the children would be happy to lead us on a tour of the rice paddies and Mr. On's "power plant." Off we went.
When you enter a rice paddy from dry land, the dirt walls that retain the water are fairly wide, nearly sidewalk-size. As you move farther into the paddy, the walls become narrower, slightly wider than your shoe. The soil can get very soft. To make a long story short, the children did just fine but my feet and pant legs were wet in no time. My trips into the water managed to turn the children's friendly smiles into mild hysteria.
Seeing the hubcap-sized generator was anti-climactic. Dodging the shoulder-high bare wires that carried the electricity added excitement to our side trip. The mile or so walk back to the car wasn't any less wet but apparently just as funny.
The simplicity of the green rice fields against the hills that disappeared into the mist was beautiful.
Army Museum
The next day we poked around a rebuilt version of the old French command bunker, the Army Museum, and the large, almost deco-looking, Dien Bien Phu Cemetery.
The dimly lit Army Museum had displays of small arms used by the Viet Minh and French troops, along with old canteens and helmets with bullet holes. Large photo murals showing Vietnamese troops and civilians hauling large amounts of supplies on bicycles over seemingly impassable terrain covered parts of the walls. The one well-lit area in the museum featured a large gold-colored statue of Ho Chi Minh looking pleased with himself.
The large yard in front of the museum looked like a very old military salvage yard, with a few tanks and artillery pieces protected only by a wall-less metal roof. Smaller weapons and pieces of others, along with graffiti-covered shell casings, are left unprotected to rust.
A few feet away from the corroding military collection a young Vietnamese woman in a stylish straw hat smiled as she sold admission tickets at the museum's entrance.
Many French tourists visit Dien Bien Phu. They're interested in seeing the Muong Thanh Valley where, in 1954, 12 battalions of French paratroopers jumped in to reinforce their comrades who were surrounded by the Vietnamese.
In 1994, on the 40th anniversary of the original jump, the Vietnamese government gave its blessings to a group of French veterans of Dien Bien Phu and allowed them to parachute into the valley.
As we waited in the Dien Bien Phu airport for our flight to Hue, we watched through the window as a man chased soccer-playing youngsters off the runway. We guessed our plane was near.
After our flight was airborne, we thought about our few days in Dien Bien Phu. The openness of the people and the lush countryside gave it a real charm. Then I thought, tell that to the young man we saw breaking rocks with a hand instrument that looked like a leftover tool from "The Flintstones." But it worked.
The military history of Dien Bien Phu was the reason for our visit, but happily that feature was upstaged by a lunch and a ride in the country.
Copyright 2018 The Lawrence Journal-World. All rights reserved. This material may not be published, broadcast, rewritten or redistributed. We strive to uphold our values for every story published.