New Orleans — Five weeks after surgery to implant an artificial disc in her spine, Randy Conway went camping. She and her husband and children rode their bikes. They went swimming.
It was the first time in a year that Conway had been able to swim. It had been many months since she had ridden and much longer since she had been able to try to ride without debilitating pain afterward.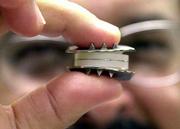 Even housework and mowing the lawn were joys, for a while, just because she could do them.
Conway of St. Amant, La., is among the first people in this country to test products offering hope to people who otherwise would need a much more extensive operation to fuse two vertebrae together.
Had Conway's spine been fused, she would have had to spend six weeks in bed, with a total of six months for total recovery. Some people with artificial discs have gone back to work after as little as two weeks.
"It's exciting," Dr. Terrence Piper, an orthopedic surgeon in St. Louis, said after examining the kind of artificial disc implanted in Conway's back and talking to people at the company booth at the North American Spine Society's meeting in New Orleans.
"Very exciting," answered Dr. Richard Guyer of the Texas Back Institute, lead U.S. investigator on tests of the SB Charite disc prosthesis.
At its core
The SB Charite disc prosthesis, made by the German firm Waldemar Link GmbH & Co., has been used in Europe for about 10 years, but is still being tested in the United States. Another artificial disc, made by DePuy AcroMed, has been through preliminary tests in Australia and the United Kingdom, and will begin clinical trials next year there and in the United States.
Several other companies are testing replacements for the disc's shock absorber the nucleus. It can leak out through the cartilage ring around it into the spinal canal, where it causes pain by pushing on nerves.
That was Conway's problem.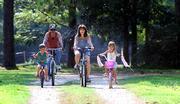 Painkillers and exercise will help most people with a slipped disc or degenerative disc disease. But about 10 percent need surgery because the more conservative treatments just don't work.
Operations include cutting out all or part of the nucleus, removing the entire disc and replacing the disc with a bone graft to fuse the vertebrae together.
Another surgeon had removed Conway's bad disc, but the pain returned, said Dr. George Isaza, the surgeon who implanted her artificial disc. She was able to choose to receive the artificial disc. After Isaza's first five patients, a computer will decide who gets the disc and who gets spinal fusion.
In addition to the long recovery time, fusion can increase stress on the rest of the spine, even damaging nearby discs over time. Doctors hope that the movement allowed by the artificial discs may eliminate that problem.
"It's extraordinarily promising. But there's extraordinary promise in a lot of medicine," Dr. Michael Gordon of Newport Beach, Calif., a spinal surgeon for 18 years, said after presentations about artificial discs and an artificial nucleus.
"But there are very significant unsolved problems," he said. "Reliable insertion. Long-term stability and wear of the implants. What do you do when they get infected? What do you do when they get loose? How do you get them out if you need to later? And how is the body going to respond to wear debris?"
The operation against which artificial discs are being tested is fusion with a "cage" to keep the vertebrae the right distance apart and hold the graft in place while new bone grows around it.
"They used to fuse hips and knees. Now it's considered almost barbaric a last resort. The spine's kind of behind. It's a more complicated joint," said Philip Williams, a research and development manager for Stryker Howmedica Osteonics of Rutherford, N.J.
Waiting for approval
Williams presented a paper on baboon tests of his company's artificial nucleus. Its main conclusion: The nucleus should be tried in people. Those tests will begin soon, Williams said, declining to be more specific.
The trick with an artificial nucleus is to get it into the smallest possible hole in the cartilage ring, but have it fill a space about an inch across and half an inch high.
All have one thing in common: a gel which absorbs liquid in the body, expanding and becoming pliable.
Sulzer Medica of Baar, Switzerland, is starting clinical trials of its nucleus a spiral which coils itself inside the spine in Europe, clinical director Wolfgang Mueller said.
"I'd like to try it, if you can get the FDA approval. I do have patients it would be good for," said Dr. Robert Harf of Sonoma, Calif.
Raymedica Inc., which has a nucleus replacement approved last year in Europe and being tested in the United States, estimates that 185,000 U.S. patients a year, and 370,000 worldwide, may be candidates for the artificial nucleus.
The artificial discs use harder, sculpted materials to create a smoothly moving joint.
A new lease on life
Conway said her 6-year-old daughter and 5-year-old son used to have trouble understanding why their mother couldn't play or go places with them.
The prescription painkillers "just kind of makes you tired and makes you not want to do things," Conway said.
They didn't kill the pain entirely, either. "I could go through a bottle of Tylenol in less than a week's time," she said.
Pain also kept her from sleeping well.
Two or three weeks after surgery, she was on a lower prescription. Within five weeks, she needed only a Tylenol now and then, when muscles she hadn't used for a year got stiff.
She even tried a skateboard recently, but got off in a hurry.
"It wasn't because I was worried about hurting my back. I was just worried about falling. Period."
Copyright 2018 The Associated Press. All rights reserved. This material may not be published, broadcast, rewritten or redistributed. We strive to uphold our values for every story published.