Hanoi, Vietnam — Moving beyond a painful past, President Clinton encouraged Vietnam to become a more open society Friday and said of the two nations' warring history: "We must not forget it but we must not be controlled by it."
In a city rebuilt after American bombing, Vietnamese President Tran Duc Luong welcomed the prospect of "immense" cooperation between the old enemies, and thousands greeted Clinton with great curiosity and some excitement.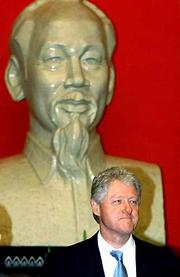 Clinton visits a rice paddy today where searchers are looking for remains from the downing of a U.S. warplane 33 years ago.
Vietnamese leaders welcomed the prospects for greater cooperation between the two nations but were cool to his measured call for greater freedoms.
Clinton said that guaranteeing the right to religious worship and political dissent builds confidence in the fairness of institutions. Vietnamese officials did not agree, saying that they have different interpretations of human rights, according to Clinton's national security adviser, Sandy Berger.
Clinton was the first U.S. president to visit Hanoi, an enemy capital during the Vietnam War, which ended 25 years ago with a communist victory over U.S.-backed forces.
"The history we leave behind is painful and hard," Clinton said in his toast. "We must not forget it but we must not be controlled by it."
Earlier he presented 350,000 pages of documents about battle dates and locations, along with medical records, to help Hanoi determine the fate of 300,000 missing Vietnamese.
Copyright 2018 The Associated Press. All rights reserved. This material may not be published, broadcast, rewritten or redistributed. We strive to uphold our values for every story published.