Hanoi, Vietnam — President Clinton opened a historic visit Friday to Vietnam, welcomed with a red-carpet ceremony near the mausoleum of the legendary Ho Chi Minh, architect of the communist victory over U.S.-backed forces in the war that ended 25 years ago.
Crowds of curious onlookers, some of them waving, stood three and four deep on the streets as Clinton's motorcade headed for the French-built presidential palace on Ba Dinh Square. The palace is a stone's throw from the grey stone building where Vietnamese line up each day to pay respects to the late leader they know as Uncle Ho.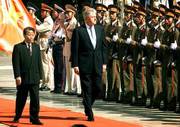 A military band played the national anthems of the United States and Vietnam as Clinton and President Tran Duc Luong stood under a canopied platform in the warm morning sun. An honor guard of military troops stood at attention.
On a visit stirring painful memories back home of America's long and most unpopular war, Clinton promised "to build a different future" with its former enemy.
Clinton arrived in the communist capital late Thursday, the first U.S. president ever in Hanoi, a city once bombed by American warplanes. Thousands and thousands of Vietnamese were on the streets at midnight for a glimpse of Clinton's limousine and jammed the square in front of his hotel.
"This only happens once in a thousand years," said homemaker Tran Thi Lan, 50.
Reaching out to a generation of students born after the war, Clinton planned to speak at Hanoi National University to describe his vision for a new chapter in U.S.-Vietnamese relations. State-run television, in an unprecedented move, was to broadcast the address live.
More than 50 U.S. corporations sent executives to Vietnam during Clinton's visit in hopes of gaining a foothold in what they believe is a vast untapped market of 78 million people.
Reversal of fortunes
As a young man, Clinton "opposed and despised" the Vietnam War, organized protest marches and avoided the military draft. As commander in chief three decades later, Clinton acknowledged that "A lot of people still bear the wounds of war" in both countries.
The war cost 58,000 American lives and tore the nation with suffering and turmoil. The U.S. military buildup began in 1961, growing to 60,000 combat troops within four years and to 543,000 by 1969. U.S. forces in 1973 made a humiliating withdrawal that still haunts the Pentagon. North Vietnam's army captured Saigon in 1975, leading to the unification of the country under communist control.
The losses to the Vietnamese people were staggering: 3 million dead and thousands missing.
"The best thing that we can do to honor the sacrifice and service of those who believed on both sides that what they were doing is right, is to find a way to build a different future, and that's what we're trying to do," Clinton said in an interview with The Associated Press.
In a cautious rapprochement, Clinton lifted a trade embargo against Vietnam in 1994 and the next year restored diplomatic relations. He opened the U.S. Embassy in Hanoi in 1996 and in 1998 issued his first waiver of a law that bars trade relations with communist nations that deny citizens the right to emigrate. In July, the United States and Vietnam signed a sweeping trade agreement.
"I think it's a new chapter," Clinton said. "The thing that makes America work over time is our ability to visualize new futures and achieve them."
Piecing past together
Even as Washington and Hanoi look to the future, the United States still searches for missing servicemen and pursues rumors of Americans left behind when the last known POWs went home. Clinton said that "so far all the rumors and all the leads have turned up dead ends."
The United States lists 1,992 Americans unaccounted for from the war. The Pentagon has stopped pursuing 646 of the cases, and the rest remain open. Clinton on Saturday will go to a rice paddy outside Hanoi where experts are trying to recover remains at a site where it is believed Air Force Capt. Lawrence G. Evert of Cody, Wyo., crashed in an F-105 jet on Nov. 8, 1967.
Clinton is the third U.S. president to visit Vietnam. Lyndon B. Johnson went to Vietnam twice as president and Richard M. Nixon once, in 1969.
Pete Peterson, the former pilot and POW Clinton sent to Hanoi as the first postwar U.S. ambassador in 1997, said Clinton would see a rapidly changing nation.
Peterson said Vietnam has made significant political and economic reforms even though it is one of the world's poorest nations, with a per capita annual income of $372. He said the Vietnamese are enjoying significantly greater individual freedom but human rights problems persist.
Clinton will not meet with political dissidents during his visit, Peterson said. "Obviously we want to have as constructive a visit as we possibly can."
"We don't need rose-colored glasses here," Clinton said in the AP interview. "We still have differences with the Vietnamese about the form of government they have. ... But I think it's time to write a new chapter here."
Clinton was accompanied by his daughter, Chelsea, and mother-in-law, Dorothy Rodham. First lady Hillary Rodham Clinton arrived Thursday from Israel, where she delivered a eulogy at the funeral of Leah Rabin, widow of former Israeli Prime Minister Yitzhak Rabin.
Clinton flew here from economic talks in Brunei with Pacific Rim leaders.
Copyright 2018 The Associated Press. All rights reserved. This material may not be published, broadcast, rewritten or redistributed. We strive to uphold our values for every story published.