It's ironic that in a country where many people are trying to lose weight, others are busy trying to find enough to eat.
Even though the economy has been strong for several years, many Americans still find themselves struggling to pay the bills and meet their basic needs between paychecks.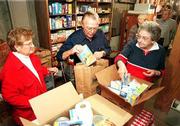 That's where community organizations like the Trinity Interfaith Food Pantry come in.
It's a partnership of four Lawrence churches, started in 1996, that regularly gathers nonperishable foods from congregations and distributes them free of charge to anyone who needs help.
The pantry's in the basement of the Matthews Center at 1027 Vt. The building also houses the offices of Trinity Episcopal Church, 1011 Vt.
The congregations that support the pantry are Trinity Episcopal; First United Methodist Church, 946 Vt.; Trinity Lutheran Church, 1245 N.H.; and St. Margaret's Episcopal Church, 5700 W. Sixth St.
The food pantry cooperates with another one run by First Baptist Church, 1330 Kasold Drive. The pantries trade off days during the week so that people in need aren't turned away.
Virginia Parsons, a member of Trinity Episcopal since 1960, came up with the idea to form the Trinity Interfaith Food Pantry.
Parsons served as chairman of the church's lay pastoral committee for five years. She often was called upon to organize volunteers to prepare and take meals to those in the congregation who needed meals on a short-term basis.
"But I knew there were times they needed more than a meal or two furnished over one week. At one time, I was asked to raise enough food for several families, at least a two- or three-week supply. That's a lot of food," she recalls.
"That meant to me there was a need for a separate ministry to do this. I did a survey of local churches to see who would be willing to participate."
The Trinity Interfaith Food Pantry is in the basement of Trinity Episcopal Church's Matthews Center, 1027 Vt.The pantry is open from 3 p.m. to 4:30 p.m. Tuesdays and 10:30 a.m. to noon on the second and fourth Saturdays of each month.First Baptist's pantry is open from 3 p.m. to 5 p.m. Mondays; 10 a.m. to noon Wednesdays; 3 p.m. to 5 p.m. Fridays; and 10 a.m. to noon Saturdays.The telephone number at First Baptist is 843-0020.
Parsons presented the plan for a food pantry to Trinity Episcopal's leadership, and they approved it in 1995. The pantry opened early the next year.
Getting to a better place
It serves people in all kinds of different situations. Some are struggling to make it between paychecks. Others are moving from welfare to independence.
"This is a stopgap for them, help until they can get to a better place in their lives," Parsons says.
There's no charge, no paperwork to sign and no waiting period.
Last year, the pantry provided food to about 600 people.
Churches take turns monthly in supporting the pantry by holding food drives within their congregations.
The pantry accepts donations of any kind of nonperishable food, such as canned fruit, juice, vegetables, tuna, beef stew and chili with meat; dry goods, such as cereals, beans and pastas; condiments; and spices.
The emphasis is on dishes that are simple to prepare.
"We need Tuna Helper and Hamburger Helper, something that kind of jumps out of the box and is fast to make," Parsons says.
And the pantry is generous. Clients emerge with a grocery sack (or sacks) filled to the brim.
"When we give food, we give enough food to last a week. So we're talking about serving anywhere from one (person) to nine people in a family. We give whatever most people would keep in their pantry," Parsons says.
It's OK for people to come back for more food when they need it, too. Pantry clients can call ahead to request food, or just drop in. The telephone number is 843-6166.
Parsons also will go to the grocery store on a client's behalf and buy fresh goods like milk, meat and produce upon request. But the pantry isn't equipped to store perishable food.
Helping to stretch dollars
The Rev. Sharon Howell, pastor of First United Methodist, is a big fan of the work the pantry does.
"We realize that many people in the community are in minimum salary positions and are not able to stretch those dollars as far as they need to go. There are moments when they absolutely need more than food stamps to be able to feed themselves or their families," Howell says.
"I believe that's part of the Gospel that we profess and proclaim to help feed those who do not have enough. We are extremely pleased to participate in that."
Parsons agrees with Howell on the spiritual grounding of the pantry.
"This is a religious organization, of course, and just about anywhere you read in the Bible, a lot of the Scriptures talk about feeding the poor.
"That's what Jesus told his disciples. We are our brother's keeper; we're all responsible for each other," she says.
Copyright 2018 The Lawrence Journal-World. All rights reserved. This material may not be published, broadcast, rewritten or redistributed. We strive to uphold our values for every story published.