Allison Deutch makes her living inside a moving frankfurter.
One of 12 people nationwide selected to be an Oscar Mayer Hotdogger, the recent Kansas University graduate is spending a year driving one of the company's six Wienermobiles around the country. Her boss says Deutch was picked because she can "cut the mustard."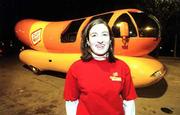 Deutch also can spin the puns.
"We don't call it a sun roof," she said describing one of the vehicle's features. "It's a bun roof."
Since mid-June, Deutch and another Hotdogger have been driving the Wienermobile and wearing clothes promoting Oscar Mayer, the Madison, Wis.,-based meat producer.
"If we have days off, this is our vehicle," Deutch said. "This is what we drive. If we have to do laundry, this is what we drive to the Laundromat. It's pretty much a lifestyle."
The 27-foot long, 11-foot-high wiener on wheels draws a lot of attention, said Keisha Kelly, Deutch's boss.
"People do go out of their way to take pictures from their cars," Kelly said in a phone interview. "They'll stick almost their whole bodies out the window."
And, that's while both vehicles are moving down a highway.
Allison Deutch will conduct a meeting about jobs with Oscar Mayer at 4 p.m. today in the Regionalist Room of the Kansas Union at Kansas University.The Wienermobile will be on campus then.
Deutch said life inside a wiener appealed to her while she was a public relations student at KU's William Allen White School of Journalism and Mass Communications. She went to a meeting on campus about the job. She applied. She tried out. She got the one-year job, which includes benefits and all travel expenses.
Then she had to tell her parents in Des Moines, Iowa, what her first job would be after she graduated in May.
They were happy for her after they found out it was "a real job," she said.
"The job changes from day-to-day," Deutch said. "One day we're at an elementary school, so we have to be up there at 9 a.m. The next day we're at a museum in the evening."
Deutch and her fellow Hotdogger, Michael Schuck, don't sleep in the Wienermobile. Oscar Mayer picks up the cost of hotel rooms for them.
"They tell us where to go. We decide how to get there. What roads to take," Deutch said.
The Wienermobile has a video camera in the back. The driver can see what's directly behind the vehicle on a video monitor on the frankfurter-shaped dashboard.
"We always watch our buns," Kelly said.
Copyright 2018 The Lawrence Journal-World. All rights reserved. This material may not be published, broadcast, rewritten or redistributed. We strive to uphold our values for every story published.