Every Thanksgiving, the turkey comes out of the freezer.
And every year, questions arise about how to spice up the traditional menu so hungry guests will gobble up the turkey and trimmings.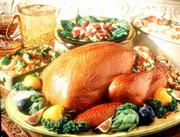 Here are a few dishes that will bring a little comfort back to the holiday while giving a new spin to old favorites.
Turkey with English Muffins and Rice Stuffing
----
10 English muffins, split and cut into 1/2-inch cubes
1 package (6 ounces) long grain and wild rice mix, original recipe
1/2 cup (1 stick) butter or margarine
1 1/2 cups chopped onion
1 1/2 cups chopped celery
1 tablespoon poultry seasoning
2 cups chicken broth
14- to 16-pound turkey, thawed if frozen
Vegetable oil
Heat oven to 350 F. To toast English muffins cubes, place in large shallow baking pan and bake 20 to 30 minutes or until light golden brown, stirring several times. Set aside. Cook rice mix according to package directions, omitting butter. Set aside.
Melt butter in large skillet over medium heat. Add onion and celery; cook and stir 10 minutes or until tender. Stir in poultry seasoning. In large bowl, combine toasted cubes, cooked rice and vegetable mixture. Add broth and toss together.
Heat oven to 325 F. Remove neck and giblets from turkey cavities. Drain turkey well and dry with paper towels. Stuff neck and body cavities lightly with stuffing. Turn wings back to hold neck skin in place. Place turkey, breast side up, on flat rack in roasting pan about 2 inches deep. Brush skin with oil. Insert oven-safe meat thermometer deep into thickest part of thigh next to body, not touching bone. Place turkey in oven and roast about 4 to 4 1/2 hours.
When turkey is two-thirds done, cover breast loosely with foil to prevent overcooking of breast. Check for doneness; thigh temperature should be 180 F and stuffing temperature 160 F. Let turkey stand 15 to 20 minutes before removing stuffing and carving.
Note: Place extra stuffing in casserole dish and refrigerate. Before serving, bake covered in a 325 F oven 50 to 60 minutes or until hot.
---
Loaded Mashed Potatoes
----
Makes 8 to 10 servings
4 pounds medium baking potatoes
1 cup milk
12 ounces (1 1/2 cups) French onion dip
1 1/2 teaspoons salt
1/4 teaspoon ground black pepper
1/2 cup (2 ounces) shredded Asiago or fresh Parmesan cheese
1/4 cup crumbled cooked bacon
Peel potatoes and cut into eighths. Place in large saucepan, cover with water and bring to a boil over high heat. Reduce heat to low; cover and simmer 15 minutes or until tender. Drain; return to saucepan. Using potato masher, mash potatoes with milk. Blend in dip, salt and pepper.
Place potato mixture in shallow 2-quart baking dish. Sprinkle with cheese and bacon. Heat in 350 F oven 20 minutes or until hot.
---
Updated Succotash
----
Makes 8 to 10 servings
1/2 cup (1 stick) butter, divided
3/4 cup chopped red bell pepper
1/3 cup sliced green onions
1/4 teaspoon salt
1/8 teaspoon ground white pepper
2 cups baby carrots

3 cups frozen whole kernel corn
4 cups fresh broccoli florets
2 tablespoons honey mustard
2 teaspoons water
Melt 2 tablespoons of the butter in large skillet. Add red bell pepper and green onions; saute 2 to 3 minutes or until crisp-tender. Stir in salt and pepper; set aside.
Place carrots and 1 1/2 cups water in large saucepan or 4-quart Dutch oven. Bring to a boil. Reduce heat to low; cover and simmer 3 minutes. Add frozen corn and broccoli. Return to a boil. Cover and simmer 4 to 5 minutes or until vegetables are tender. Drain. Return cooked vegetables to saucepan.
Meanwhile, melt the remaining 6 tablespoons of butter in medium skillet over medium heat. Continue heating 2 to 3 minutes more, stirring frequently. Watch carefully. Remove from heat when lightly browned; set aside. Stir together honey mustard and water in a small dish.
Combine sauteed vegetables with carrots, corn and broccoli in saucepan. Drizzle mustard mixture over vegetables; then drizzle with browned butter. Toss gently. Place in serving dish.
---
Cran-Apple Spinach Salad
----
Makes 8 to 10 servings
1/2 cup cranberry juice concentrate, undiluted
1/3 cup olive oil
3 tablespoons raspberry blush balsamic vinegar (or raspberry vinegar)
1/8 teaspoon salt
4 cups unpeeled chopped tart red apples (such as Royal Gala, Braeburn)
1 cup dried cranberries
8 cups torn fresh spinach leaves
1 cup diagonally thin sliced celery
2 cups Spiced Pecans (recipe below)
Whisk together cranberry juice concentrate, olive oil, vinegar and salt in small bowl. Place apples and cranberries in 2-quart shallow glass dish. Pour cranberry mixture over apple mixture. Refrigerate, covered, at least 3 or up to 24 hours; stir occasionally.
When ready to serve, toss spinach and celery in large shallow bowl or serving platter. Top with cranberry-apple mixture. Sprinkle with pecans.
l Note: If cranberry-apple mixture has been refrigerated several hours, allow to stand at room temperature about 15 minutes for olive oil to liquefy; stir before using.
---
Spiced Pecans
----
Makes 2 cups
1/3 cup honey
1 tablespoon water
1/2 teaspoon ground cinnamon
1/4 teaspoon ground ginger
1/8 teaspoon salt
2 cups pecan halves
1 tablespoon sugar
Heat over to 325 F. Combine honey, water, cinnamon, ginger and salt in medium size bowl. Stir in pecans until coated with honey mixture.
Using slotted spoon, place pecans in single layer on parchment paper-lined baking sheet. Sprinkle with sugar. Bake 16 to 18 minutes, turning half-way through baking time. Cool slightly on baking sheet. Remove and cool completely. Store in tightly covered container at room temperature up to 3 days.
Copyright 2017 The Lawrence Journal-World. All rights reserved. This material may not be published, broadcast, rewritten or redistributed. We strive to uphold our values for every story published.