It's late Thanksgiving afternoon. The football game is on, and the pumpkin pie is settling in your stomach.
You look toward the kitchen and see the bare carcass of the turkey on the counter.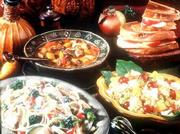 The leftover meat has been carved, packaged, refrigerated or frozen, lying in wait for some later use.
Why heat the turkey and pair it with mashed potatoes when there's so many recipes that turn leftover poultry into tangy, tasty main dishes? And why settle for the same old sandwich?
Here are a few recipes that can spice up your Thanksgiving Day leftovers:
Grilled Turkey Apple Cheese Sandwich


8 slices of marbled rye bread
1/3 cup honey mustard
8 slices cooked turkey
8 to 10 thin slices unpeeled tart red apple (such as Royal Gala, Braeburn)
8 slices (1 ounce each) smoked Gouda cheese
1/4 cup (1/2 stick) butter, softened
Spread one side of each slice of bread with honey mustard. Top each of the 4 bread slices with 2 slices of turkey, 2 to 3 apple slices (depending on size of bread slice) and 2 slices cheese. Cover with second slice of bread, mustard facing cheese.
Spread outside of bread with butter. Place sandwiches in large skillet. Cook over medium heat until bread is golden, about 4 minutes. Turn and grill second side of sandwich. Makes 4 servings.
---
Pumpkin Black Bean Turkey Chili


2 tablespoons vegetable oil
1 cup chopped onion
1 cup chopped yellow bell pepper
3 cloves garlic, minced
1 1/2 teaspoons dried oregano leaves
1 1/2 teaspoons ground cumin
CONTINUED FROM PAGE 1D
1 1/2 teaspoons chili powder
2 cans (15 ounces each) black beans, rinsed and drained
2 1/2 cups chopped cooked turkey (dark meat works well)
1 can (16 ounces) canned pumpkin
1 can (14 1/2 ounces) diced tomatoes, undrained
3 cups chicken broth
1/2 cup cream sherry
Heat oil in large saucepan or 4-quart Dutch oven over medium heat. Add onion, yellow bell pepper and garlic; saute 8 minutes or until soft. Stir in oregano, cumin and chili powder. Cook 1 minute longer.
Stir in black beans, turkey, pumpkin, tomatoes with liquid, broth and sherry. Bring to a boil, stirring occasionally. Reduce heat; cover and simmer 45 minutes.
---
Curried Turkey Couscous Salad


1 cup chicken broth
1/2 teaspoon curry powder
1/2 teaspoon salt
3/4 cup uncooked couscous
1/2 cup golden raisins
2 tablespoons minced crystallized ginger
3/4 cup mayonnaise
2 tablespoons lemon juice
2 cups chopped cooked turkey
1/3 cup chopped celery
1/3 cup sliced green onions
2 oranges, peeled, sectioned and cut into small pieces (1 11-ounce can mandarin orange segments, drained, can be substituted for 2 oranges)
1 cup seedless red grapes, halved
3 tablespoons chopped fresh parsley
Combine broth, curry powder and salt in medium saucepan. Bring to a boil. Stir in couscous, raisins and ginger. Remove from heat. Cover; let stand 5 minutes. Uncover and fluff couscous mixture with a fork. Cool to room temperature.
Meanwhile, combine mayonnaise and lemon juice in large bowl. Stir in turkey, celery, onions and almonds until well coated. Fold in couscous mixture, oranges, grapes and parsley. Refrigerate, covered,
3 to 4 hours to allow flavors to blend. Makes 4 to 6 servings.
Copyright 2018 The Lawrence Journal-World. All rights reserved. This material may not be published, broadcast, rewritten or redistributed. We strive to uphold our values for every story published.