If personal computing were a theme park, it would be called Land of Unexpected Consequences.
An Epson Stylus Color 880 printer arrived for review recently. Slick, fast (12 pages per minute black text) and cheap ($149), it has both parallel and USB (Universal Serial Bus) interfaces. Since a 2-year-old iMac was the available machine with a USB, it was selected to participate in the test drive.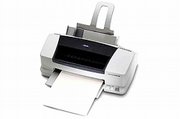 Oops! The Epson 880 wanted to see Mac OS 8.5.1 or later, and the available iMac was using OS 8.1.
Well, never mind. Time to upgrade anyway. A quick trip to the store and $100 produced a copy of Mac OS 9.04. The CD went in as instructed, and the computer was shut down and restarted running OS 9 from the CD. When installation was attempted, the screen sneered that its firmware was outdated.
(Firmware refers to chips that retain information after the electricity is turned off.)
In the Windows world, there's no mention of each other's firmware performance, but Mac types have always been a bit looser, so go with the flow. The readme file had some weird rap about inserting a straightened paper clip into the second small hole to get the firmware updater to do its thing. But without anything being inserted anywhere, the screen soon brought the welcome news that the aging firmware was now up to the task at hand.
Twenty minutes later, OS 9 was humming nicely. So, what had begun as a printer evaluation became an operating system upgrade.
The Epson 880 turned out to be worth the effort. With a resolution of 2,880-by-720 dots per inch, text was crisp and color images photolike. An 8-inch-by-10-inch color photo takes a bit more than 100 seconds.
(A word about printing speeds. Since the content of each page printed can vary widely, speeds given are approximate. Resolution and content alter printing speeds on a case-by-case basis. So if that report with text and color graphics prints out at 8 pages per minute instead of the estimated 9, life continues.)
Inserting the black and color ink cartridges was easy, with clear directions under the cover for those of us who tend to lose instruction papers. The gravity-feed tray holds 100 sheets of paper or 10 envelopes, and the output paper tray will catch 30 sheets.
Approximate dimensions of the 880 are 18 inches long, 10 1/2 inches wide and 7 inches high. It weighs 13.2 pounds.
Ink consumption is always an issue with a machine that will typically consume multiples of its purchase cost in supplies. Epson says the black ink cartridge will print 900 pages of an ISO-IEC letter pattern and the color cartridge will print 300 pages at 15 percent coverage.
Again, individual use will dictate life span. Epson also says the printer is one of its quietest ever, but anyone who complains about ink jet printers being noisy needs to examine his priorities.
Using the Epson 880 on a Windows USB port requires Windows 98, 2000 or later. Those with a parallel port need Windows 95, 98, NT 4.0, 2000 or later.
The printer comes with bundled image software for both PC and Mac platforms and PC-only Web software. (Hey if you sell replacement ink cartridges, you want folks doing plenty of image printing.)
The bottom line: It produces excellent output at a fair price, and is well worth considering.
Epson products are ubiquitously available at retail.
Copyright 2018 The Associated Press. All rights reserved. This material may not be published, broadcast, rewritten or redistributed. We strive to uphold our values for every story published.