Ottawa — Ed Crabb stood with his hand over his heart and thought of his brother as he watched the release of 500 balloons Saturday.
The 83-year-old Williamsburg man was one of about 50 people who braved a bitterly cold wind to attend a brief Veterans Day ceremony at the Franklin County War Memorial in downtown Ottawa.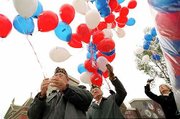 The name of Crabb's brother, Robert L. Crabb, is listed on the memorial wall as one of those killed during World War II. Robert Crabb's fighter plane crashed in England during a training flight, his brother said.
Ed Crabb, himself an Army veteran of World War II, also recognized a few other names on the list.
"I think about them sometimes," he said. "You never forget."
Ottawa doesn't want to forget any of its veterans. That's the reason the city had its seventh annual Veterans Day parade Saturday morning. Any veteran who wanted to march could be in the parade. Veterans came from as far away as Wichita and Pratt, said Sherry Wright, parade director.
"It went really well," she said. "Some people just showed up this morning who wanted to be in it."
This year, for the first time, activities were scheduled throughout town with a Veterans Day theme. Military displays could be viewed at Ottawa City Park. Other activities included discussions about a German prisoner of war camp in Ottawa during World War II.
The balloons that were released carried the names of area veterans, said Craig Dengel, owner of the Dengel and Son Mortuary, which organized the event.
"I think about them sometimes. You never forget."
Ed Crabb, veteran and brother of deceased veteran
Supporters paid $10 to sponsor a balloon. Similar balloon releases sponsored by the National Funeral Home Assn. were conducted nationwide, with the money to be donated to the National World War II Memorial in Washington, D.C., Dengel said.
Veterans in Lawrence also honored their fellow soldiers.
The American Legion and Auxiliary Dorsey-Liberty Post No. 14, Disabled American Veterans and Auxiliary Jayhawk Chapter No. 22, and the VFW and Auxiliary Alford-Clarke Post No. 852, combined for a ceremony at the VFW building, 138 Ala.
Copyright 2018 The Lawrence Journal-World. All rights reserved. This material may not be published, broadcast, rewritten or redistributed. We strive to uphold our values for every story published.